March 2007
Please forward this retirement newsletter to your online friends! They'll appreciate your thoughtfulness and we will too! Thank you. If you received this issue from a friend, you can insure against missing the next issue by clicking below! Subscribe here to the Retirement-Online Newsletter!

---
Hello!
Hello

New!

Comments Please consider leaving your two cents... questions and comments about what you just read! It only takes one retirees thoughts to help another retiree...
Custom Search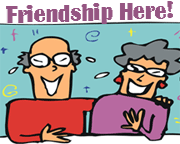 Top Ten Reasons to Retire: free ebook & ezine.. Get Yours!
Popular Pages: