Let's Write a Kindle Book - Together!
Retirement Advice From
Retirees Worldwide
Looking for retirement advice and help? Get advice and ideas from me, your retirement host, and from a variety of retirees worldwide, who have "been there and done that" already!
That's the key... Enjoy your Retirement Journey.  Please don't assume you are alone in your retirement thoughts. Many others struggle through retirement, just like you do.
Get Help -OR- Pay it Forward if you can help another retiree. It only takes one persons words, or personal issue, to help another retiree immensely!
There IS light at the end of the retirement tunnel where you CAN find fulfillment and joy in retirement! 
It's not about money either, though money obviously helps in dreaming possibilities. There is plenty you can do to be healthy, happy and engaged in life - without much - seriously. Life can be rich with activity and friendships, even while you are aging...
My Mission for Retirement-Online:  Wendy supports Boomers in finding authentic retirement lifestyles. Authentic? What does that mean?
Wendy's Authentic Retirement definition: AUTHENTIC REITREMENT means a retirement lifestyle that is true to your core self. Time to find the real you... the YOU who lives each day, the YOU who is excited to wake up every morning, the YOU enjoying moments in life that others pass by.
It's time to Get Real!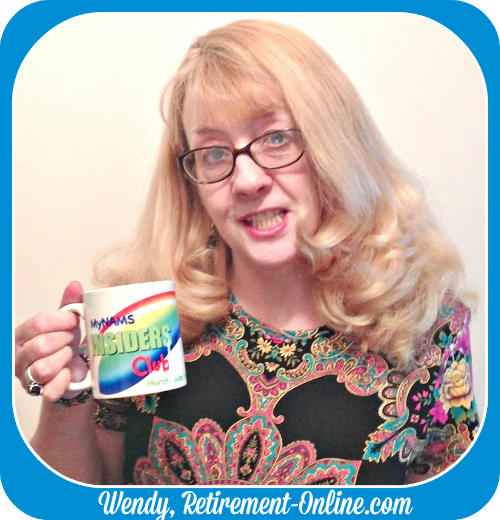 My thought is that we learn, we work and have families, then we retire. Some folks may find the perfect employment that let's them soar. Some of us find passion in our occupation, only to have it wane as we work. Many just find work and do the job to earn a living. 
In Retirement, it's time to take back our lives. Living life based on what we truly love in life has got to make retired life just ROCK! 
Let me help you live an active, engaged lifestyle, even though you are aging and slowing down a bit. You can remain smart, witty and social. You can discover real purpose for your days while helping the world for the Greater Good. Let me help you find fulfillment and yet contentment in this stage of life. Life is Good!
How to Connect:
(1) Register for my Retiree Outreach newsletter and keep connected with new retiree submissions. Help and Be Helped...
(2) Contribute your retirement story! Get retiree feedback from those who have been there before you...
(3) Interested in Home-Based Business Ideas for Boomers? Try www.justbusinessideas.com (my other site) for oodles of ideas.

Also, here is my Biz Newsletter to keep you updated.

(4) Ideas for Keeping Busy (email series) 

(5) Join the Retirement Online Community and find new friends worldwide.
(6) How to find Senior Friends on this site (email series)

(7)  Learn from and give feedback to any of the personal retiree stories on my site. Don't miss these personal submissions as they've helped many before you! Find new retiree submissions here!
How to Learn More about Retirement:
This website accomodates three stages of retirement:
JOIN MY Free Newsletter to Help and Be Helped...
I sincerely hope you find the nugget you need to carry you forward in retired life! Please get involved to learn more about your own retirement, share your retirement problems, and even help other retirees simply by sharing and commenting on their pages.
| | |
| --- | --- |
| To a Happy Authentic Retirement!  | |
P.S. I retired April 2010 after twenty-five years as a Retirement Manager (and 35+ years my local govt. employer). As a retirement enthusiast, I am living through my own retirement transition now! Oddly enough, I am learning more about the REAL "me" now! Why did it take me all these years to stop and think about ME!?
Retirement is a Journey --
Not a Destination!