Retirement Advice For 
Retirement with a Purpose! 
Looking for advice to find YOUR Best Retired Lifestyle? 
What will you do, all day, every day, to feel happy and fulfilled? You need purpose in life, even in later life.
Get advice and lots of ideas from Wendy, your retirement host, and from a variety of retirees worldwide, who have "been there and done that" already!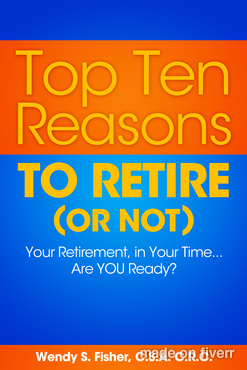 Initially written in 2011, just after I retired... Updated in 2017 - Top Ten Reasons to Retire  is a free email course for you. If you are considering retirement or even if you are retired, it may offer that nugget of an idea that you are waiting for!
Enjoy your free email course! 
Welcome to Retirement-Online!
Retirement is a Journey, NOT a Destination.
First, if you are full of Retirement Anxiety, as many are, Read & Discover that You Are Not Alone! That's really important to know so you can FIND your Best Lifestyle!
That's the key... Enjoy the Journey.  
If you don't like this new phase of life (yet), please don't assume you are alone in your negative thoughts. Many others struggle through retirement, just like you do.
Get Help -OR- Pay it Forward if you can help another retiree. It only takes one persons words to help another retiree immensely! 

Share Your Retirement Story!
Tell me about your retirement... share your retired life and receive feedback from many others!
Share Your Story:
1) Write your story at this link. I will publish and readers can add their feedback. This has helped many retirees.

2)  Write to me privately here.
These are easy peasy ways to get help... and maybe, just maybe, you'll get the perfect feedback, at the perfect time, to push you forward into your future years!
There IS light at the end of the retirement tunnel where you CAN find fulfillment and joy in your later life! 

It's not about money either, though money obviously helps in dreaming possibilities. There is plenty you can do to be healthy, happy and engaged in life - without much - seriously.
Life can be rich with activity and friendships, even while you are aging... 
Retired Life - based on what we truly love in life - has got to make life just ROCK! 
My thought is that we live busy lives. We go through school, then we work and have families, then we retire.
BOOM! Now what?
Let me help you live an active, engaged lifestyle, even though you are aging and slowing down a bit. You can remain smart, witty and social. 
You can discover real purpose for your days while helping the world for the Greater Good.
In Retirement, it's time to take back our lives!
Embrace Life Right Where You Are... 
How to Stay Connected:
(1) Register for my Retirement Insider newsletter (registration to the left) and remain connected... learn and find new ideas! Help and Be Helped.

(2) Contribute your story! Get retiree feedback from those who have been there before you...
(3) Interested in Home-Based Business Ideas? You'll find oodles of ideas, tutorials, and more.
(4) Ideas for Keeping Busy (email series)  
(5) Join the Retirement Online Community and find new friends worldwide. Safe, private community forums, pen pals, and more!

(6) How to find Senior Friends on this site and in the private community (email series)

(7)  Learn from and give feedback to any of the personal retiree stories on my site. Don't miss these personal submissions as they've helped many before you! Find new retiree submissions here!
How to Learn More:
This website accomodates three stages of retirement:

Retirement Transition - This stage of retirement can last anywhere up to five years (estimated). Some people retire with little down time at all... retirement suits them and they were prepared (both mentally and financially). Others struggle - we feel anxious, bored, don't know what to do all day so we do nothing, and sometimes fall into depression. It's not a good place to be...
Already Retired

- You are retired, settled into your new lifestyle, maybe for many years now, and simply seek new friends, and new ideas on how to change your retired lifestyle! Join the private Retirement Community (above) to find new interests, chat with other retirees, and simply enjoy life while sharing life!
My Mission for Retirement-Online: 
This site supports retirees in finding perfect-for-you, purposeful lifestyles. We should all be leading HAPPY Retirements! We can still find solutions to our most pressing problems... thus kicking retirement anxiety to the curb.
I want to help you consider your options for a lifestyle that is all about YOU. 
I sincerely hope you find the nugget you need to carry you forward in retired life! Please get involved to learn more about your own retirement, share your retirement problems, and help other retirees simply by sharing and commenting on their pages. We can do this, TOGETHER!
It's time to Get Real!  We still have lots to contribute to this world!
Retirement Rocks!
| | |
| --- | --- |
| To a Happy, Productive Retirement!  | |
P.S. I retired in April 2010 after twenty-five years as a Retirement Manager (and 35+ years with my local government employer) and have worked on this website for the last six years. More about me here. As a THIRTY YEAR retirement enthusiast, I have experienced my own retirement transition. I survived and you will too. Oddly enough, I am learning more about the REAL "me" now, in retirement. Why did it take me all these years to stop and think about ME!?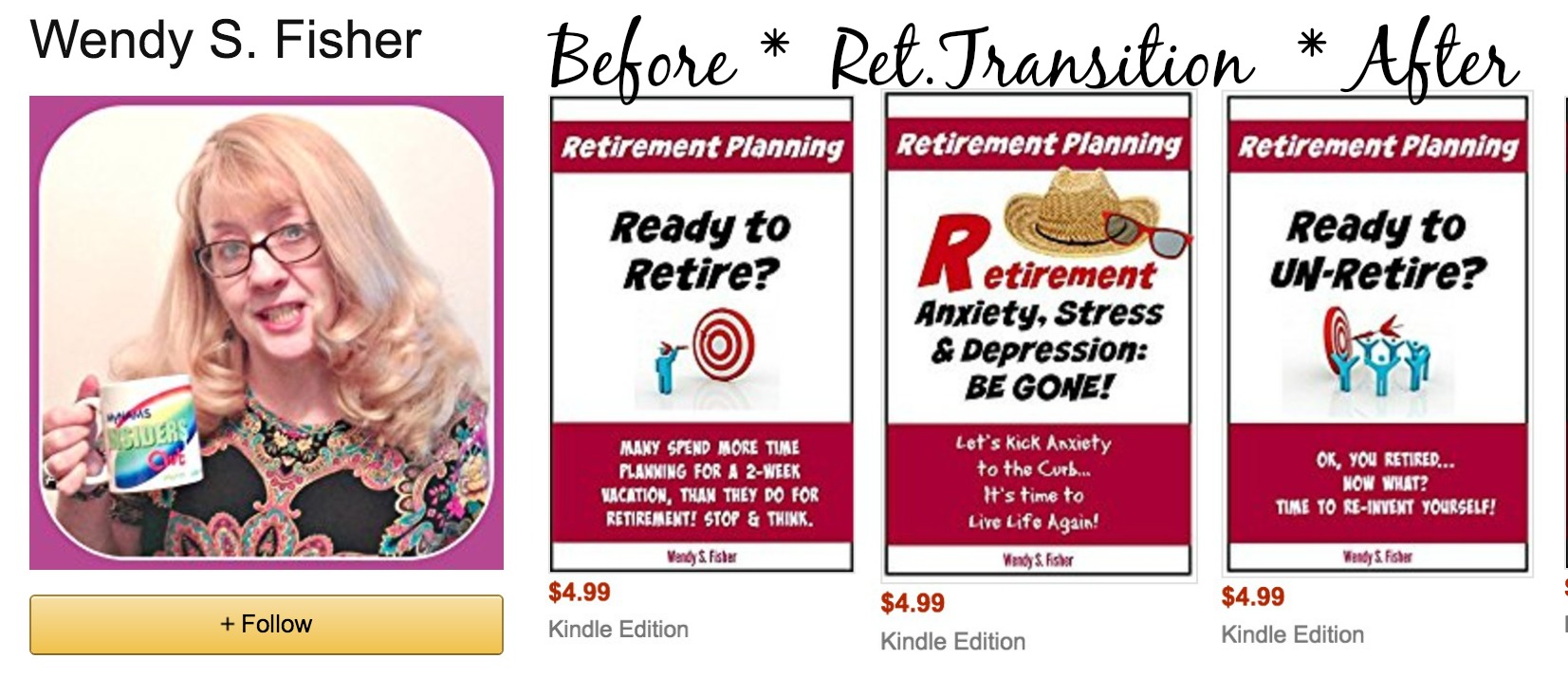 Click the image to view my books and author page!
Retirement is a Journey -- Not a Destination!