Retiree Blogs

This page has retiree blogs, written by retirees, just like you. YOU can blog too!
Just real life retirees writing about their retired life, or about their hobbies, their passion, whatever it is they care to write about.

If you want to write your own blog using the Retirement-Online website, this page shows you what others are doing, so that you might get an idea for you own personal blog here -- or simply enjoy the thoughts of other retirees!
Starting Your Own Blog:
IDEA: Want your own retiree blog on this site? You will see several below that are hosted here (below), where you WILL be read. If you enjoy writing, why not share your thoughts, when you are in the mood, with the world of retirees!? The PLUS of writing on my site is that you will be read by LOTS of retirees, where a standalone site needs many pages and continued growth before you are likely to get much attention. If you'd like to discuss this, contact me. We'd love to hear your perspective on retired life!! 
IDEA  #2: You can start a personal blog using my Retirement Community. To Join just click the link and read about it -- then, go to the MY PAGE tab, and write! It will be placed on your page so when people click to check you out, it's always there. It will, also, be posted publicly when first posted so any member can see the post (see the left column after you enter the community).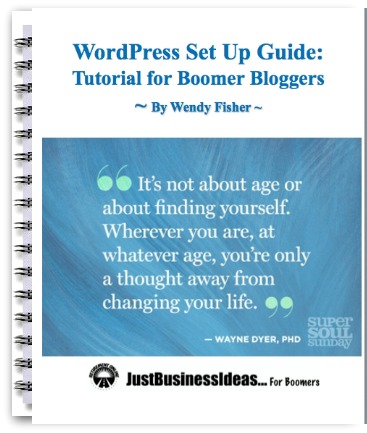 IDEA #3: Do it Yourself with this free ebook with Boomer Blogger Instructions. Start your own blog, OWN it, register a domain name, and blog like a crazy person...  income too! It's seriously not as hard as you'd imagine... 
Just register for my Retirement Insider newsletter, then download the free Book for Boomer Bloggers... before you know it, you'll be the proud owner of your own blog!
Just click the link and look at the middle, top, book... Tutorial for Bloggers! Go for it!

Consider sharing your news, views, life experiences and knowledge with the world! 
Hopefully, you'll find a nugget of wisdom and a pool of insight to lead you further on your own Retirement Journey! Read the blogs below!
| | |
| --- | --- |
| Just Havin' Fun! | |
---
Retiree Blogs on Retirement Online:

---
Thomas Damron from Texas  is a busy writer in his retirement. He writes books, articles and is quite the funny guy (despite living a seriously sad marriage)! Check out his blog here!
Ricardo Mauzer has documented his Pre-Retirement thoughts on a blog here. Most retirees don't think ahead to really consider retirement, like Ricardo did... love that! Now he is retired and continues to share his thoughts.
Irwin Lengel from Lakeland, Florida enjoys blogging about life, retirement, and more... he is inspirational!
Gordon Kinghorn from the UK writes about all aspects of life in retirement. Funny but with very British writing style and humor. Love it! He is quite the writer too!
Brother Bon, a monk from Germany, wrote about Christian seniors and life. 
Mike Yeager, Retirement in Arizona - This blog is about life in Arizona as a retiree! Mike recently wrote a book too!
---
Retiree Blogs Worldwide:

I would appreciate a reciprocal link back to my site, from your blog, when I list your blog.  Please help spread the Retiree Love! Thanks!
---
The Spirit of Flight blog is written by Pam and is related to her work in retirement as she creates non-profit organizations to benefit others.  
The Writers' Drawer blog is written by a retired editor for beginner writers.
Retirement Stories is from Ireland and has friendly retirement stories to share. Greg is a retirement coach too!
Retired--Now What? is a written by Warren, a former scientist... should be interesting to see what he discovers about retirement!
Check out this retiree blog: Barry, at age 60, climbed Mount Kilimanjaro, with his son. His blog is Keep on Climbing!
Jeanette from Ontario started a blog after she retired... read Post Work Saavy here!
Joan has been very busy with her blog, Tips for Boomer Years. Loads of Boomers considering heading out that retirement door!
Sandra Lee's Cooking Blog - I started this retiree blog for a friend, Sandy - and, as you can see, her cooking adventures are a great read!
Dave isn't quite retired, but his new blog, Love Being Retired, focuses on getting a head start on addressing what we need to know in retirement, NOW rather than later.
The Half Baked Log is a blog written by a retired friend. Majoring in English Lit, she writes well and thinks way too much, can you tell? Check out the Frog with a Blog!
A Retired Boomer is a new retiree blog written by a retired guy in Arizona. I really liked this post and can only hope *I* find this kind of peace in my own retirement.
Retirement Things is written by John, and features things to do and places to live!
Ramblings of the Recently Retired is a newer retirement blog of Gretchen, who has lots to say! Enjoy!
Octogenarian , a blog by retired journalist who still has plenty to say at age 80+. He recently passed away but I am leaving his blog to show others that you CAN do a blog in your 80s!
Adventures in Retirement, a retiree blog by Retired Rosie!
Howards Retirement Weblog, and his retired adventures!
The Retirement Investigator Blog, a fellow SBIer website blog helping with retirement issues!
---
I sincerely hope you enjoyed visiting these retiree blogs. The writers are serious about sharing their two cents with you... through humor or thoughts on retired life.
You can contact me below to add your own Retiree Blogs on my pages!
I'd love to hear from you... it only takes one persons words to help another out there through the retirement transition and daily issues!
Thanks!