Great Retirement Advice

Get great retirement advice...
We would LOVE to help you!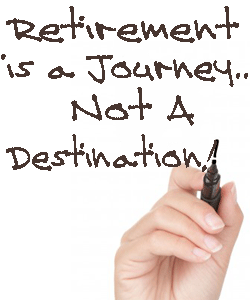 Long Journeys are always better with friends...
Sometimes, you hear the same tip or advice over and over.
Suddenly someone else tells you about the same darn thing - only YOU suddenly get it.
You have the ability to change lives today. Your words can make someone stop and think.
Your story really CAN change the life of another retiree. Your words, your story or feedback can make another person sit up and "get it".
It only takes one idea or thought to make the world of difference in another life!
If you need help, write about your retirement issue. Retirees will send feedback, based on their life, experiences, knowledge. Everyone has an opinion, share yours!
Great retirement advice comes from those who have travelled the retirement road before you... they have Been There & Done That!
Your story could rock someone's world. Please DO share! 

Just start writing below (min. 300 words, it's easy!)
Write Here!
Do you want to add your two cents?
What do you think?
Retiree Stories: Feel Free to Leave Feedback!
Click below to see contributions from other retirees...