About Wendy,
Retirement Enthusiast & Coach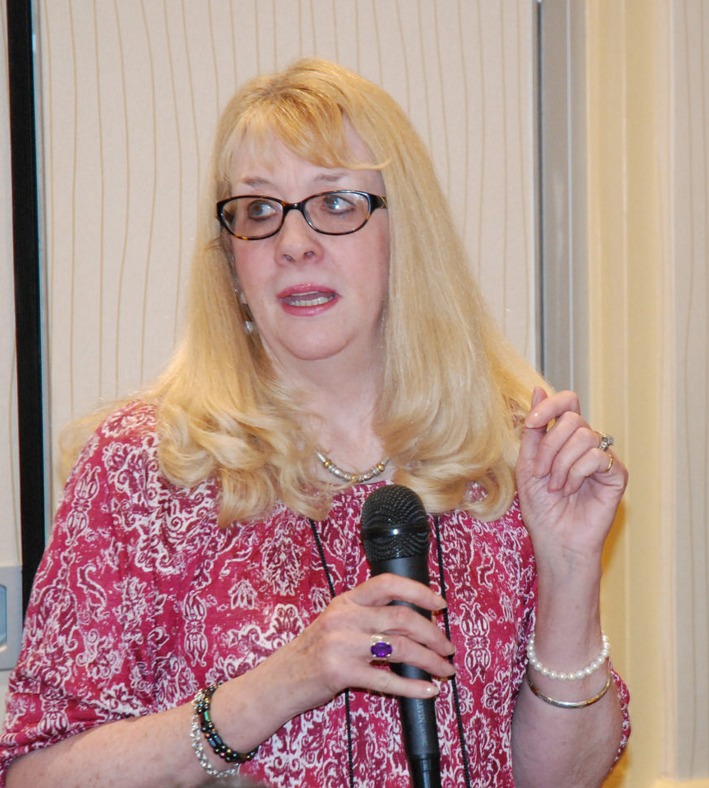 Wendy, NAMS Conference 2015
Contact Me here!  
Wendy's Blog  
Retirement Enthusiast 
Hello! I'm Wendy and I retired in 2010 from 30+ years with County government, the last 25 years as the Retirement Manager.
Retirement is my passion... and I knew I wanted to continue to help retirees post-retirement, thus this website!
As a Retirement Coach, I feel a deep need to help those who get "stuck" in retirement. Just when we should be living THE LIFE, we feel lost. How does that happen?
WHY blog about retirement? Why not simply retire and enjoy life?
Hmmm, good question! 

I can't stop thinking. I have plenty of time to relax, feel peace within me, and enjoy life... but like many others, sometimes that free time is just too much. (Psst! A blog is a good way to keep busy and yet stay retired...)
I need to share this odd time of life called Retirement --
where we can thrive, and enjoy all life has to offer, as we age consciously 
where we might choose to live in joy and contentment daily, full of gratitude for every single day
where we can easily fall into anxiety/depression, if we aren't careful. Don't even go there, stay involved in life, stay relevant, there is much we can do (with or without income).
Retirement thoughts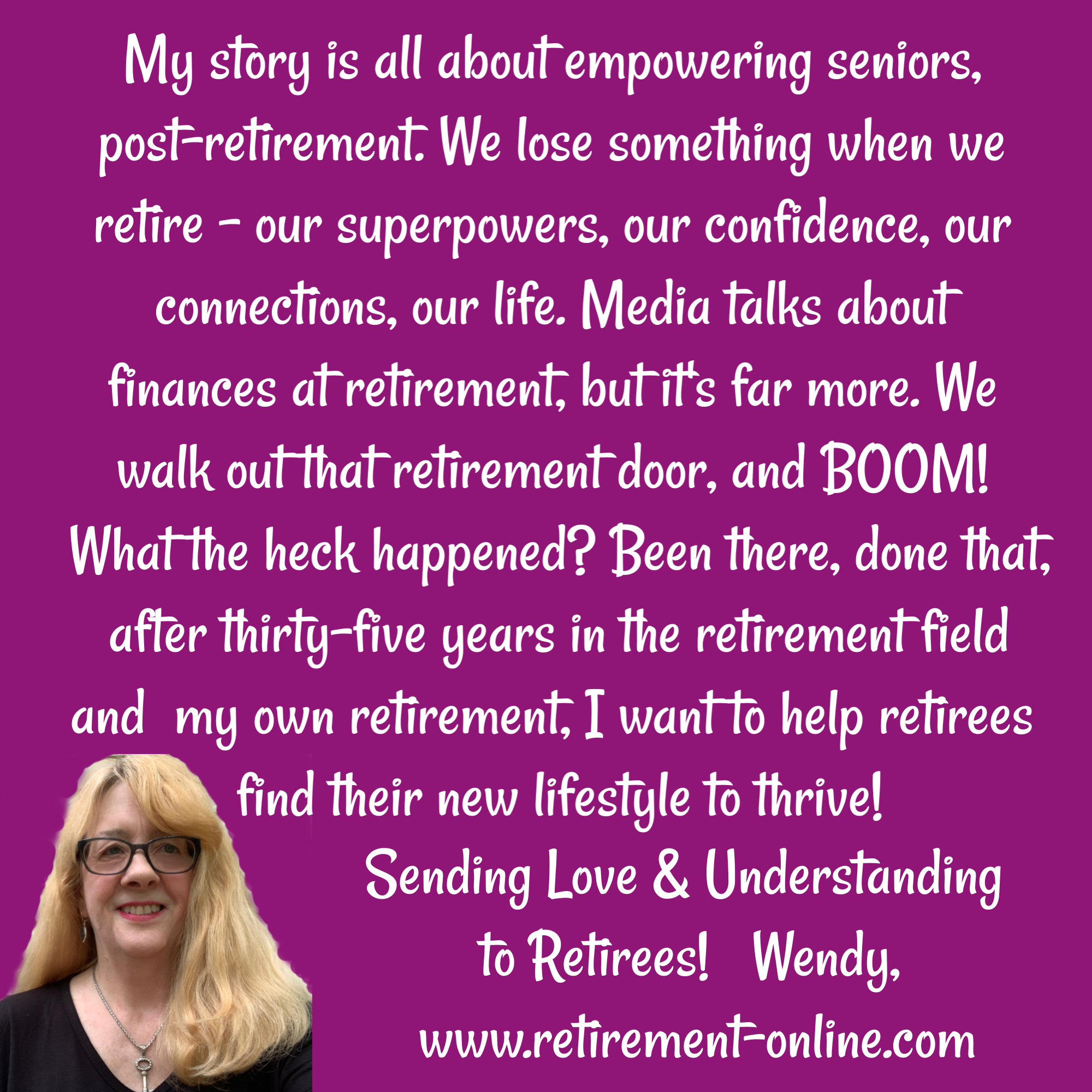 I have written on most topics that are "all things retirement". Many retirees have written their stories or retirement issues on this site -- and feedback was provided by others who had "been there and done that".
Help and Be Helped Here!
I was employed with County government for over thirty five years. I was the Retirement Manager from 1985-2010. At first, I was happy to get a promotion to Manager,  but I honestly knew little about this lifestyle called "retirement" (only that you stop working). 
After a few years in this position, I realized how daunting the concept of retirement is for most folks. I watched and deeply questioned my parents retirements. I also realized I love everything about retirement -- the more I learned, the more I needed to know so I could help retirees.
For the past 25 years, I've also worked with thousands of retirees. I've listened to their hopes and dreams (and also their fears) going into retirement. Later, they revealed their happiness and disappointments in the retirement years. I hope I can use my experiences to  help you, in some small way, to navigate the retirement issues that face you. 
Wendy's Retirement Transition
Before I retired, maybe 2005-2009, I struggled with my own retirement. I just couldn't seem to walk away.... and yet, I really wanted to! This is one life decision that is NOT easy.

First, I wrote a post about my emotional retirement decision. I even answered my own retirement questions!
Then, my retirement decision, which is subtitled: You'll Know When You are Ready! I totally shocked myself when I suddenly gave only two weeks notice.
I retired in April 2010, and wrote this page the day before I retired.
It's Official, I did retire! 
Two weeks into retirement, time flies by (but what the heck did I do)?!

Four months into retirement, here I go again...
A Compliment
A truly dynamic and special person is the woman who started this site... Retirement-Online.  It has been a wonderful place to share thoughts, opinions, art work, music plus all the other fun things.  Her advice and encouragement have been a valuable treasure.  This is someone that I feel should get loads of compliments on this National Compliment Day!
Best Wishes,  Nina Yakimiuk, United Kingdom
Six months retired, I sound happy, positive...
I had little to say about my first year of retirement, I think I was lost most of 2010-2011. Seriously, like many others, just lost.

We all need friendships in retirement...
Me? Volunteer? Yep, I did.. only for a week, but it's a start!
Here I am at my 2 year anniversary of retirement (April 2012).
In 2012, We visited Saugatuck, MI for our wedding anniversary, and that anniversary number didn't sit well. I can deal with aging, so what's the problem, Wendy?
Late 2012, and finally getting around to Retirement and the Gym.... update: it didn't last long. Gym work is just not for me...  <grin!>

Three year anniversary is April 2013.  It was a busy 3rd year!!
In 2015, I've written so much on retirement, started a Retirement Community, and I'm an Amazon author too (3 books in 2015). Woo Hoo!

Late 2016, I started Neurogym mindset training... and now 2017 has me feeling blessed!
In 2017, I joined the Retirement Coaches Association. I'm proud to be a charter member!
In 2020, several monumental events happen -- and I'm not talking about the COVID pandemic and racial issues (though both were life changing). In May, I launched my new Retirement Courses site, where I can finally host my classes!  In May, I became a Certified Happiness Coach. In June, I turned SIXTY-FIVE (yes, I needed to capitalize that)... yikes! In September, we have our 40th Wedding Anniversary! 2020 is a Busy Year AT HOME SWEET HOME and for that, I am grateful!
Never Ever Stop Learning...
In early 2019, I found Kyle Cease (the "Comedy Meets Transformation" guy) and I love him! Just google his name on Youtube (lots out there) or to find his website. Some of his events/courses were: I Hope I Screw This Up and Life is a Playground. He teaches you how to take the critical nonsense in our minds far away and you begin to seriously have fun in life!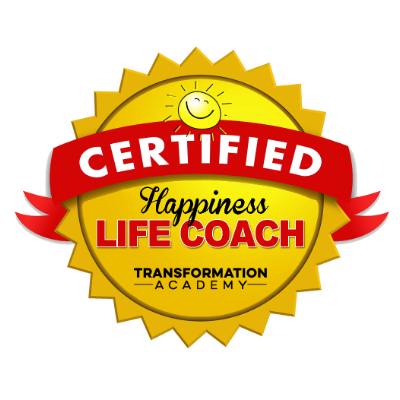 Well, in early 2020, the Pandemic came along and everyone was under stay-at-home orders. Boredom reigns, despite my site and mom caregiving... 
I am now a Certified Happiness Coach through Transformation Academy. Great experience, took notes like crazy, and totally enjoyed new perspectives on happiness (from a Psych professor). 
Thoughts on Retirement
To me, there are two concepts in retirement to consider:
Time  and  Money  
Most of us LOVE  the concept of "no work" and doing what we want to do with our own time... BUT  the thought of living off savings, pensions, and Social Security is downright scary. 
Retirees, financially, are amazingly diverse... some have and some do not, and lots of degrees in between. This website is really not about the financial aspects of retirement though I have lots of information on money issues -- pensions, savings, Social Security, disability retirement.
As humans, working, disabled, or retired, I think we have continuing needs, desires, and goals to be productive in some manner. In fact, I KNOW we do!  
Some retirees will be happy simply living near grandchildren to help them daily, others need meaningful relationships, sharing life with others, or "work" to do to make them feel "whole". 
Many people spend more time, 
Planning for a two week vacation --
Than they do for RETIREMENT,
Which can be the next 20 - 30 Years! 
So, who are you and what will YOU do with the rest of your life?
Bottom Line: I want to share the retirement experience with you - in the hopes that you gain something to help you through your own retirement.
This is a huge transition in life! You suddenly rethink life, what you accomplished, what you left behind...
Retirement is a Journey...  
Not A Destination! 
I hope to share my two cents with you, and hope to share the views of many retired folks worldwide -- so that we all learn more about retirement and how seniors can live full productive FUN lives!
I hope to share oodles of what I've learned over the years, and if only one person finds one thought that will help them find joy or put them at peace with retirement, I am happy and absolutely thrilled...
Retirement Decisions aren't easy!

P.S. Believe it or not, I Retired to the Internet! I have a nice supplemental income from this website and totally enjoy the "work"... (it's not work when you are having fun!)
| | |
| --- | --- |
| Have fun! | |