Retirement Party Ideas
 Are you looking for Fun Retirement Party Ideas? Think about the memorable retirement party you can host, then Go For It!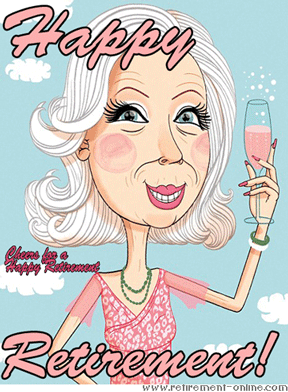 Your soon-to-be retiree deserves a great send off! All it takes is a little time to consider the retirees wishes, some unique memorable party ideas, and your retiree will have a party to remember.
This doesn't mean a big, expensive retirement party. A small office party can be quite memorable with simple items to spice it up and make everyone smile!
Plan a unique send off and make it a happy time for all involved!
P.S. Lots of retirement party ideas on this page with links to other pages and other resources -- keep on scrolling down the page to learn more!
Retirement Party Ideas -
make it memorable!
If your retiree is a LEGEND, you will love this Custom-Mug, with the retirees name on it! Too Cool!

Bringing everybody together is a perfect time to have a look back at a lifetime of work and good times.


Just remember - the retiree may be longtime friends with retired folks, more than current employees, as their co-workers may have retired first.  Often, the current co-worker relationships aren't strong like former co-workers.

Just something to consider...

Retirement Party Legend Will Live On
Classic White Coffee Mug

Add your retirees name, customizable!

See more

Retirement Mugs
If you are planning the party for someone, please take their wishes into consideration as they may have definite opinions on a retirement party. To the soon-to-be retiree, retirement is often downright scary -- please don't give them more anxiety. You want a retirement party that is as memorable as the long career.
When planning a retirement party, decide on the major issues:
Whether this will be a small intimate affair or a huge lavish party?  
Is this a retirement dinner or munchies and desserts?  
Open house party at the office, a rented hall or home?  
Do you want to do a theme party?
How many will you invite?  
Another fun gift ideas could be a personalized cartoon of the new retiree. For example, a golfer or Las Vegas vacationer may be presented as a personalized photo hand drawn as a cartoon. You can get caricatures and cartoons done for only $5 at fiverr.com. Yep, only $5.00, then frame it, and you've got a unique retirement gift!
You can find lots of retirement gag gifts which can bring loads of entertainment. Bear in mind that the gifts chosen should not cause a negative vibe and not hurt feelings in any way. Again - the retiree may be smiling, but internally, there might be great anxiety, so why create more?
Retirement gag gifts are a great substitute to conventional, dull, practical gifts. These funny retirement gifts will not only cause amusement and laughter but will also help create a memorable event! 
Oodles more funny retirement gifts here, and some retirement gag gifts too!
Funny Retirement T-Shirts from Amazon here!
Here are some DIY retirement gift ideas... pretty simple, creative and so eye-catching to!
Finally, retirement gift ideas, written by site visitors to help you find something special and unique! 
Retirement Party Ideas: Sing-A-Long
First, here is fun Retirement Party video of a retirement song called "Irish Retirement Drinking Song"... looks like a great party! Listen to the words of the song. Talk about retirement memories!! 
If you want your own Sing-A-Long, Try this Retirement Song!
Here are some retirement quotes for use in retirement speeches and lots of different ways to use them!
Need help with a retirement speech? or maybe a retirement humor roast? 
This is another humorous retirement roast if you need more ideas!
This speech might be used for technology challenged retirees... edit to make it yours! Pretty funny!
A good joke or two helps the laughter flow. Funny retirement jokes will get the ball rolling -- the first one is the best! My personal favorite - grin!
Retirement cake ideas here. You can make your own, maybe a theme cake matching the theme party, or cupcakes (which are Cool now!) Some are a bit pricey but this is a once-in-a-lifetime event, someone special to you is going into retirement, so if you don't care to bake... this is the solution for you!
I hope you found many great retirement party ideas on my website!
Happy Retirement Party! 
Have A Great Idea for Retirement Parties?
Do you have a great story about a retirement party that you attended? Any ideas on theme retirement parties?
Retirement Party Ideas from Visitors
Click below to see contributions from other visitors to this page...

Leave Retirement Party Ideas & Find more Retirement Advice here..