DIY Retirement Gift Ideas
Candy Retirement Poster
Despite my love of new ideas and images, I don't do Pinterest much. However, someone has repinned a retirement image I did and I wanted to check it out.  Now - You must check out all these great do-it-yourself retirement gifts to see amazing ideas!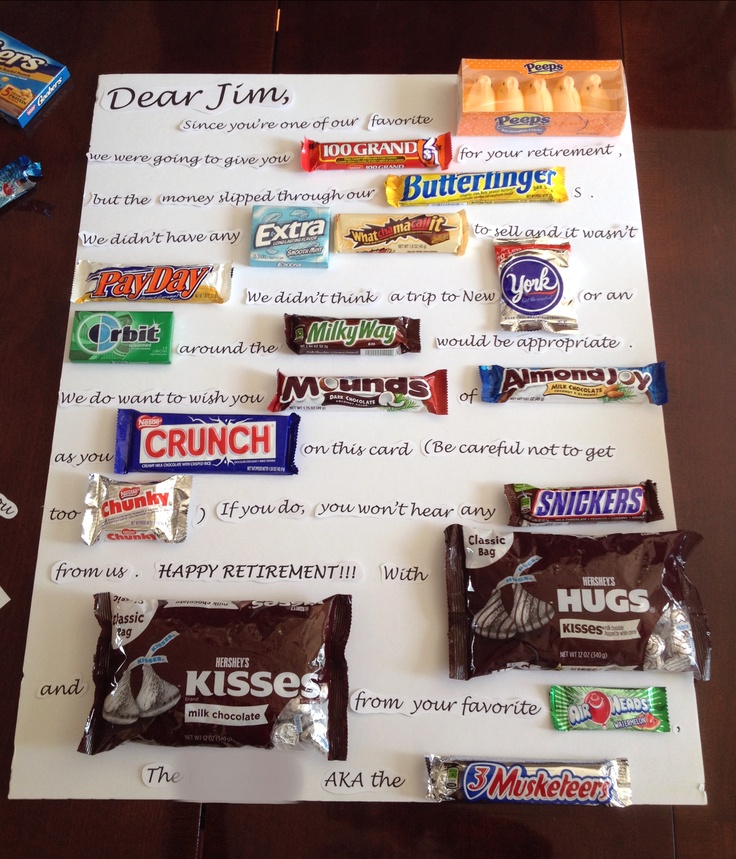 Dear Jim was posted by Vickie Czubek who says: "Retirement gift for a friend. *NOTE: original idea found on Pinterest, but I tweaked the wording and candy for my own gift."

Creative gal.. Love it!
Simply poster board and lots of small candy packages for a Sweet Retirement Send off!
The words are below and I've bolded  the candy stick-ons!
Dear Jim,
Since you're one of our favorite PEEPS, we were going to give you 100,000 GRAND for your retirement but the money slipped through our BUTTERFINGERS. We didn't have any EXTRA WHATCHAMACALLITS to sell, and it wasn't PAYDAY. We didn't think a trip to New YORK or an ORBIT around the MILKY WAY would be appropriate. We did want to wish you MOUNDS of  JOY as you CRUNCH on this card. Be careful you don't get too CHUNKY. If you do, you won't hear any SNICKERS from us!  
Happy Retirement with HUGS and KISSES from your favorite << ?? >>  (aka the MUSKETEERS)
** Don't know what that candy is! sorry!
Fancy Personalized Retirement Candy Wrappers
You can also buy Retirement candy wrappers from Amazon -- and customize your retirement chocolate gift!

I bet you could make your own Retirement Candy Wrappers like the Amazon ones, below, using address labels from work! :)  Buy fancy labels and personalize your candy!
Candy Retirement Poster #2
Dear Bob was created by Josie Stegemann... another creative gal.
Just think -- these take little time, only a pen and poster board, plus glueing the candy on!
So simple and yet such a great whimsical gift for the new retiree.. and everyone will think YOU are so clever too! 
This one is easier to read so you can copy the idea!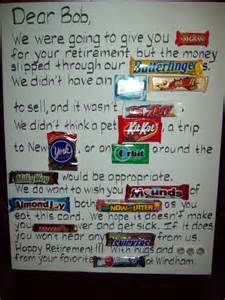 Make Retirement Cupcakes, Personalized
There are oodles of Retirement Cupcake Toppers here. But you might easily make fun toppers yourself!  
Think about the retiring persons occupation. Can you get scrapbooking cut-out items and make your own toppers like the Nursing cupcakes below?
Retirement Wall Hanging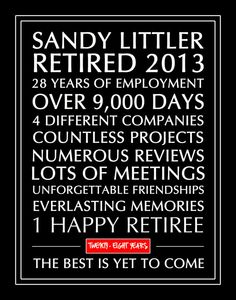 This retirement gift is sold on Etsy, lots of creative folks there!
Great send off, in a beautiful frame, for your new retired friend. 
Really easy to format this yourself, print and add a frame too!
Do the Math - write the jobs - use Justified Text so it goes from right to left nicely... then just make the page with a black background and white text!
Retirement Sash

Retirement Lotto Gift
Great retirement gift for any lotto fan - especially men!
Simple to do, once again, and yet so cool looking... kinda like a proud peacock with the colorful lotto cards as feathers.
OK,... it's a colorful lotto bouquet!
Just love it, so eye catching!
My dad loves lotto, he'd love this gift for any occasion.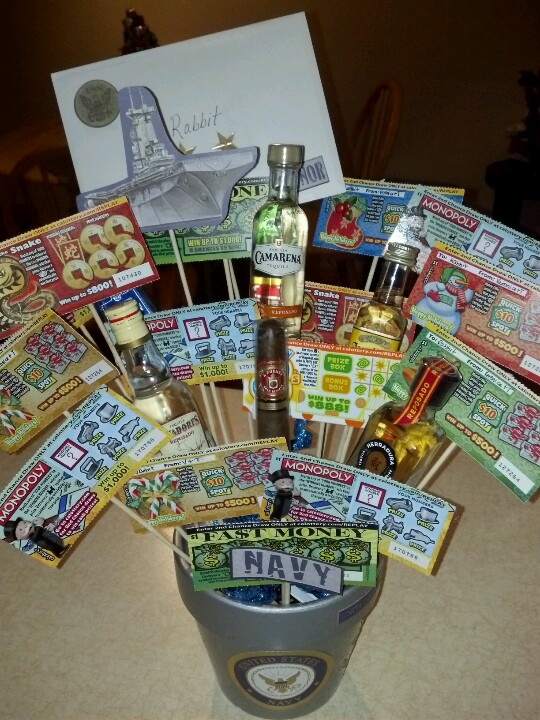 Retirement Banners
Another easy-peasy way to personalize your retirement and not difficult to do! Buy them or make them, either way they add fun to your retirement party!
Retirement Photo Props
I hope you found oodles of great ideas for the DIYer who loves to make a great retirement party!