Saving Money on Retirement:
 Buy Online Deals from Ebates
I am trying something new, I will buy online deals through Ebates.com. WHY? Because you get cash back there! 
First, yesterday, I opened a new credit card at a Bank that pays cash back for your purchases. My mother has had a cash back card for years now. She charges everything and pays it off each month too.
I simply never bothered looking for cash back, until now. Lately, I have been looking for options that any retiree might use to save our financial resources (or the lack of same) in the best way possible... thus cash back ideas.
So today, a week later, I just happen upon an article about cash back using Ebates.com. Well, since this cash back thing was already in my head, I jumped in and joined to check it out. I buy lots online anyways!
I joined here to buy online deals:
You immediately get to pick a gift card bonus which you get after you actually use the service. I chose the $10 with Walmarts... stop laughing!
This is the second screen you come to. Sheer simplicity -- to buy online, just hit the ebates site first. Then search for the store you needed, like Amazon... and buy. Ebates.com simply links you to their store, so nothing looks different... but your purchase now earns cash back.
Even simpler, I added the Ebates app to my Chrome browser! They make it so easy!
I am amazed that you can get cash back at so many places (through Ebates.com)!

You Can:
Buy PCs online (big purchase, more cash back)
Buy online 

groceries 

(lots of people do this through Amazon already)
Buy online calling card (buying it anyhow, why not online to get cash back)
Buy online movie tickets (no need to stop at the door, just breeze through)
Buy online gift cards (you need a gift card for a gift, get cash back for it)
They even have coupons (these are from Memorial day 2016):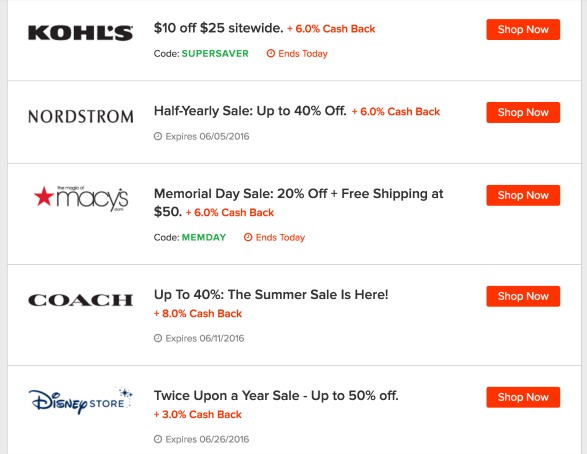 OK, So I went to make a quick Amazon purchase to show I got cash back... but here is something I didn't know.
Amazon has rebates for some departments, but not all -- not BOOKS! (and many other categories) Tut Tut Amazon... Oh Well...
I am posting this so you DO look at what is covered... I will definitely still do cash back but wanted to be sure you knew this too.
---
My Real Life Example: Kohls
Fine -- so I will use Kohl's as my example instead... after all, they have the $10 off $25 purchase COUPON plus 6% cash back. Let's see how this works:

I found a funky purse for $28.80 (regularly $48)... perfect. I applied the SUPERSAVER coupon code to get my $10 off). NO LAUGHING at my crazy bag!
Bottom Line: SAVINGS
OK,  now this is where it gets good! I am so thrilled to do this right now... fun fun!

$48.00 Original Price

$28.80 Sale Price (nice savings already)
-10.00 ($10 off $25 purchase)
+ 1.13 tax
------------
$19.93 cost for my funky $48.00 bag (who wants ME to shop for YOU?)
**NOTE: this is being charged to my current VISA, not my cash back card that should be here in a week. Just saying: I could have an additional cash back on top of this transaction from the card use too! 
$1.13 Don't forget... cash back from Ebates.com too!
-- PLUS --
$10 gift card from Walmarts too when I registered on Ebates.com
$1.13 in my Ebates Account
Kohl's Checkout Coupon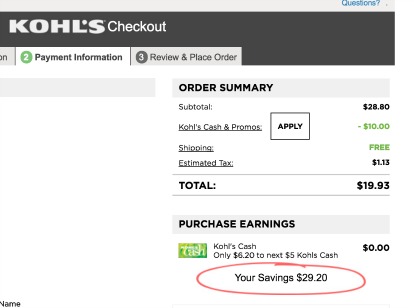 Woo Hoo! Another $5.00 rebate from Ebates.com. I've always been tall and thin... but age takes its toll and I'm not happy with the extra 10-15 pounds I've gained since retirement. I've thought about it and thought about it... and just joined Weight Watchers. Ebates had a $5 rebate! That didn't make my decision, at all... but hey, another $5 in my account!
When I was looking at the Weight Watchers options, I remembered Ebates... and clicked on the Chrome browser, Ebates button, and up pops Weight Watcher ebates to choose from. So easy peasy!
$6.13 TOTAL in my Ebates Account
2017 Update: My first payment!
Today I get an email from Ebates... in all honestly, I don't remember to get my savings near enough. Yesterday, bought funeral flowers and used ebates (it pops into my window and with a click is done).
So I now have $50 earned. I KNOW it could be double that, easily... bad Wendy, but heck, I'll take $50. The screen shot is below to see how few purchases it took me (granted two are big purchases, hotel and flowers).
I need to use Ebates more often...
because I do shop online!
I wonder why I didn't do this before, when friends told me about it? Too busy. Very curious to see how this all adds up. I buy lots online, totally convenient, delivered within days. AND yes, I am a little lazy too! Ha!

SO happy that I got that Cash Back Button activated too... easy peasy.  I shop, I click, I get my cash back...
I will post the first check when I get it! Let's see how this all works! So Far So Good!

P.S. If you buy things online, will you share what you buy and from where?
Have A Great Story About Buying Online?
Do you have a great story about this? Share it!
What Other Visitors Have Said
Click below to see contributions from other visitors to this page...

Mountain Girl
I have not joined ebates yet but will today. I buy all my vitamins from Vitacost on line because my dietician studied the quality and cost of vitamins …
Ebates on Restaurants too!
OK, I just found out I can use ebates to get food at local restaurants! woo hoo.... OOPS.. here is my first article on Ebates.com just in case you …