Wendy, Your Retirement Coach 
Do YOU need to find meaning and purpose for your days?  This is quite true for most of us!
**NEW** ReNew YOU: Love Your Life again coaching program here!
Does this describe you?
You simply feel lost
You are looking for purpose and direction 
You are bored to death and have little to do all day, every day 
You assumed you'd have more time with family & friends but they are  still working and too busy 
You worry about income, savings, and how long your money will last 
You can't sleep well, too much on your mind, too many worries
Let ME Help YOU!
Want to Chat?
I am offering free 30-minute coaching consults... interested?
You can schedule your own appointment using my online calendar, it's easy. Then...
You tell me what the topic is by answering the question:
What keeps YOU up at night?
That will be our topic of discussion... we'll chat so you can experience Retirement Coaching for 30-minutes!
Live your Retired Years as they were meant to be lived! If you feel stuck, there is a way o-u-t... just takes some logical thinking and many retirement options will pop into view.

If life is difficult, let's discuss your options. Is it possible you've overlooked something or not considered an idea because it seemed impossible?
If life is good, but you simply haven't found purpose, let's look at possibilities!
If you want to write a book, but have no topic, let's look into all your interests and hobbies and see what works best.
If you have you have gifts and abilities that you simply don't acknowledge, we will find them and put them to good use.
If you want to start a online home business, I am a Online Business Coach too!
I've worked with retirees for over thirty years now, (YIKES!) and I know the problems and issues in retirement. This is a confidential, comfortable space where you can talk through your thoughts and feelings honestly, without fear of feeling judged.

Then you can take A-C-T-I-O-N, with or without me pushing you along!
Retirement simply ROCKS after you get back on track... and you might find a completely unexpected interest that rocks your world!
What is Retirement Coaching?
In retirement, especially in the first few years, we often get "stuck". We don't know what to do all day, every day, or how to fill all those hours when we previously worked. We no longer feel needed, and we need a new purpose in life to feel fulfilled. This is not how retirement should be lived!  

Retirement Coaching will help you, one baby step at a time.
Your ideas, Your momentum, Your new life!  
It's time to find your New Retired Self and choose LIFE again!
When was the last time you REALLY considered where Life was headed? Probably back in school -- afterwards, you jumped into life: employment, marriage, home owner, kids... and life grabbed hold of you.
Poof -- Retirement is Here (and where did life go)?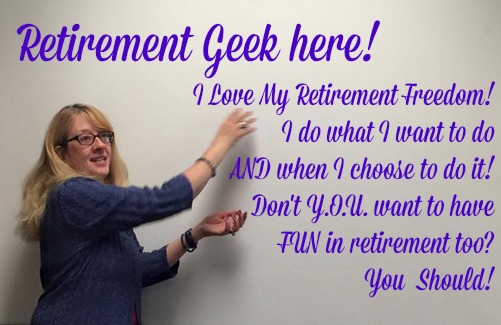 Why consider hiring me as your Retirement Coach?
First, I am retired -- been there and done that! You can read my About Me page here. 

I was employed for 35 years for local government, the last 25 years as a Retirement Manager, prior to retirement, and have continued helping retirees on this site.
I retired in April 2010, and I struggled for a few years. The retirement transition isn't easy... and yet, I had a website to run, I had the ability to feel productive. Feeling necessary in life is something many new retirees have lost.
Second, I've worked with retirees for over thirty years. Whether my help is a small step, or a large leap, into your future  -- depends on you and what direction you choose for your life, right?

My Certified Life Coach training was through the Life Purpose Institute. I chose that training specifically to help retirees transition into a new retired lifestyle... whatever that is for each retiree, as it is your choice on how to spend your retired days.
Retirement Coaching:
What keeps YOU up at night?
This is your opportunity to talk about whatever is troubling you, totally confidential, and come up with reasonable solutions that I can help you to accomplish. We will smash goal after goal until your life feels right again! 
Are you ready to do the work necessary to change? 

Please realize, this is work. There will be lots of thought-provoking questions and possibly research to do.  You must whole-heartedly consider your options, I cannot do that for you... then we can work through your problems, together. 
Don't Waste Another Day of YOUR LIFE -- 
Simply choose your option below. After you pay, you will be directed to a form to start coaching with me! Talk to me... let's see where life leads you!
Four 30-Minute Calls Each Month - for Three Months
Retirement Coaching $300
$100 per month - $300 total - for 3 consecutive months of Live Coaching - One 30-minute call each week.
These sessions will be via phone or face-to-face video coaching.
This is private access to me, and we simply talk. One on one, totally confidential, digging deep into what is holding you back in retirement.
I will ask thought-provoking questions and guide our chats... sometimes using techniques to help you past your blocks. 
This is a 3-month program as we want real results. The program uses steps:
Self Exploration to Determine Whats Important to You

Your Blocks/Fears

Your Retired Options: New Interests, New Directions in Life

Research Ideas

Develop a Plan

Follow Through on that Plan!
You will see changes in your life immediately, as we work through your issues.  This truly is all about you!
Hit the Button below & we will be chatting within days!
$100 per month for 3 consecutive months. One half-hour call every week. Boom!
I sincerely want to help retirees find more meaningful lives. My personal focus is on helping retirees to find new ideas! 
I do not offer refunds as I am spending my valuable time working with you. You control what you get out of this coaching, you control your time and efforts, and I hope you dive into this with the same enthusiasm that I will!
Working Towards a More Meaningful Retirement...