Wendy, Your Retirement Coach 
Do YOU need to find purpose and meaning for your days?  This is quite true for most of us!
Does this describe you?
You simply feel lost
You are looking for purpose and direction 
You are bored to death and have little to do all day, every day 
You assumed you'd have more time with family & friends but they are  still working and too busy 
You worry about income, savings, and how long your money will last 
You can't sleep well, too much on your mind, too many worries
Let ME Help YOU!
Want to Chat?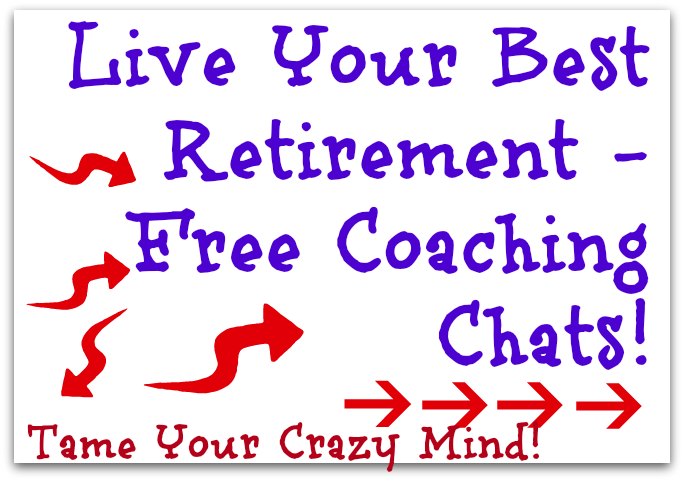 I am offering 30-minute coaching consults... interested?
You can schedule your own appointment using my online calendar, it's easy. Then...
You tell me what the topic is by answering the question:
What keeps YOU up at night?
That will be our topic of discussion... we'll chat so you can experience Retirement Coaching for 30-minutes!
Bottom Line: Simply an informal chat around whatever issue bothers you. Pick a topic and get your issues O-U-T so that you can think more clearly and find solutions. 
Get out of Crazy Mind where you sit and think, over-analyze, over-think, and get so mixed up you don't know right from left any more! Grin! It happens...
Let me add some new perspective and logic to your thoughts so you can find a way out.
Live your Retired Years as they were meant to be lived! If you feel stuck, there is a way o-u-t... just takes some logical thinking and many retirement options will pop into view.

If life is difficult, let's discuss your options. Is it possible you've overlooked something or not considered an idea because it seemed impossible?
If life is good, but you simply haven't found purpose, let's look at possibilities!
If you want to write a book, but have no topic, let's look into all your interests and hobbies and see what works best.
If you have you have gifts and abilities that you simply don't acknowledge, we will find them and put them to good use.
I've worked with retirees for over thirty years now, (YIKES!) and I know the problems and issues in retirement. This is a confidential, comfortable space where you can talk through your thoughts and feelings honestly, without fear of feeling judged.

Then you can take A-C-T-I-O-N, with or without me pushing you along!
Retirement simply ROCKS after you get back on track... and you might find a completely unexpected interest that rocks your world!
Testimonial:
I have had the pleasure of coaching with Wendy several times.  Most recently, I took advantage of her three month coaching package. I can't tell you what the weekly meetings meant to me. We worked through several things that had me "stuck" and falling into self-sabotage.  She has great insight and listened to ME. She helped me walk through a few decisions to lead me a love for my life after "kids" and "the job"! 
Thanks Wendy!

Teresa, IT Specialist
What is Retirement Coaching?
In retirement, especially in the first few years, we often get "stuck". We don't know what to do all day, every day, or how to fill all those hours when we previously worked. We no longer feel needed, and we need a new purpose in life to feel fulfilled. This is not how retirement should be lived!  

Retirement Coaching will help you, one baby step at a time.
Your ideas, Your momentum, Your new life!  
It's time to find your New Retired Self and choose LIFE again!
When was the last time you REALLY considered where Life was headed? Probably back in school -- afterwards, you jumped into life: employment, marriage, home owner, kids... and life grabbed hold of you.
Poof -- Retirement is Here (and where did life go)?
Why consider hiring me as your Retirement Coach?
First, I am retired -- been there and done that! You can read my About Me page here. 

I was employed for 35 years for local government, the last 25 years as a Retirement Manager. Post-retirement, I have continued helping retirees on this site for eight years now.
I retired in April 2010, and I struggled for a few years. The retirement transition isn't easy... and yet, I had a website to run, I had the ability to feel productive. Feeling necessary in life is something many new retirees have lost.
Second, I've worked with retirees for over thirty years. Whether my help is a small step, or a large leap, into your future  -- depends on you and what direction you choose for your life, right?
My Certified Life Coach training was through the Life Purpose Institute. I chose that training specifically to help retirees transition into a new retired lifestyle... whatever that is for each retiree, as it is your choice on how to spend your retired days.
Testimonial:
I have been working with Wendy, the Retirement Coach and have been following her blog for about three years. Wendy is one of these rare jewels that really understands the plight of the newly or not so newly retired. She has tremendous insight into the emotional components that retirees have to face when they lose their work identity. They feel there is no where to turn and then there is Wendy!!!  She has tremendous insight into the emotional components that retirees have to face. She is truly refreshingly selfless in her approach and is 100% on your side in every conceivable way possible. Wendy is giving, insightful heartfelt and a amazing gift to the retirement world. Without a doubt I give Wendy as A+ as a person, selfless caretaker, and above all a retirement motivator.
Heartfelt cheers to Wendy, the Retirement Coach!!!
Steven, an educator for 34 plus years

Retirement Coaching:
What keeps YOU up at night?
This is your opportunity to talk about whatever is troubling you, totally confidential, and come up with reasonable solutions that I can help you to accomplish. We will smash goal after goal until your life feels right again! 
Are you ready to do the work necessary to change? 

Please realize, this is work. There will be lots of thought-provoking questions and possibly research to do.  You must whole-heartedly consider your options, I cannot do that for you... then we can work through your problems, together. 
Christian Perspective
On Friday Nights, I attend a Growth Group from church. Great group of Christians and we really support each other, between lots of laughs and truths. Recently, we did the  Transformed 2.0 series by Rick Warren, and I thoroughly enjoyed it!

One night was about Emotional Health... something lots of anxious retirees are dealing with. One of the concepts besides taking your worries to God (rather obvious in a Christian study) was about finding a trusted friend to talk out your concerns. It is emotionally draining to keep it inside. Rick Warren says: "Holding on to hurt is like carrying hot coals in your heart -- you're the one who is going to be burned."

If you don't have a non-judgemental trusted friend to confide in, please consider scheduling a call below. This is simply a 30-minute chat. Recently, someone asked me if a credit card was required... No! I don't sell my coaching with these calls, I am simply trying the best I know how to listen to retirees. I allow you to voice your issues in a confidential place and I pray that most retirees walk away with a new sense of peace of mind. Please... LET IT GO!
AND -- if you are that trusted confidential friend, here's a little advice that is SO WISE but not easy to do:
Don't try to change people. Don't try to fix people.
Heal People with Your Ears.
-- Rick Warren, Transformed 2.0
Don't Waste Another Day of YOUR LIFE -- 
Simply choose your option below.
Talk to me... let's see where life leads you!
Retirement Coaching:
$600 for Three Months -- Four 30-Minute Calls/Month
$200 per month - $600 total - for 3 consecutive months of Live Coaching - One 30-minute call each week.
These sessions will be via phone or computer audio for coaching.
This is private access to me, and we simply talk. One on one, totally confidential, digging deep into what is holding you back in retirement.
I will ask thought-provoking questions and guide our chats... sometimes using techniques to help you past your blocks. 
This is a 3-month program as we want real results. The program uses steps:
Self Exploration to Determine Whats Important to You

Your Blocks/Fears

Your Retired Options: New Interests, New Directions in Life

Research Ideas

Develop a Plan

Follow Through on that Plan!
You will have homework. You will have to do the work to push yourself forward into you new retired life. You will see changes in your life, as we work through your issues.  This truly is all about you!
Hit the Button below & we will be chatting within days!
$200/month X 3 consecutive months... PayPal will auto-bill you monthly, Start Today!  Boom!
No Refunds... You are agreeing to work with me for three consecutive months!

One Month Retirement Coaching: $250/mo
$250/month - Coach with me for one month or reorder as necessary.
These sessions will be via phone or computer audio for coaching.
This is private access to me, and we simply talk. One on one, totally confidential, digging deep into what is holding you back in retirement... same as the three month sessions.
The difference is: We will be guided by what your issues are. This coaching will be easier to discuss whatever is happening in life, without the 3-month schedule getting into the midst of is the chat. This coaching is more free-flowing but equally helpful to you.
You can coach for one month, find the answers you seek, and quit. 
 OR you can continue to coach with me, month by month, and pay-as-you-go. 
Hit the button below and we can begin coaching!  
I sincerely want to help retirees find more meaningful lives. My personal focus is on helping retirees to find new ideas! 
I do not offer refunds as I am spending my valuable time working with you. You control what you get out of this coaching, you control your time and efforts, and I hope you dive into this with the same enthusiasm that I will!
Working Towards a More Meaningful Retirement...