Ebates on Restaurants too!
by Wendy
(www.retirement-online.com)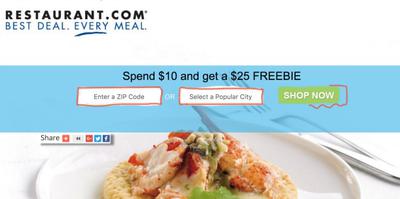 Spend $10, get $25 freebie....
OK, I just found out I can use ebates to get food at local restaurants! woo hoo....

OOPS.. here is my first article on Ebates.com just in case you don't know what I'm talking about...

Above -- First image shows the pay $10 for $25 freebie and the second image above shows you can pick from different restaurants in the area, I picked the top one to show you close up... you buy a $25 gift certificate but pay only $10. That's amazing and there are lots to choose from too!

I probably never told you that i was a couponer when first married. i had a batch of them and saved big bucks while grocery shopping. It really was a hobby for me. sometimes I would come home and show Terry that half of the receipt was my food, and half was coupons I used! GRIN!

Then I stared to do rebates too. This was in the early 80s, first married and wanted to save a buck while we saved for our first home. I cut off bar codes and box tops etc, filed them all, and mailed in for rebates... many were coupons (used above at my huge shopping sprees) and others were cash back.

NOW, here in 2016, I am realizing I can do some of the same online... and having fun!

Off to explore ebates restaurant page more, but had to quickly share here too!

Join in and write your own page! It's easy to do. How? Simply click here to return to Buy Online.