Retirement Activities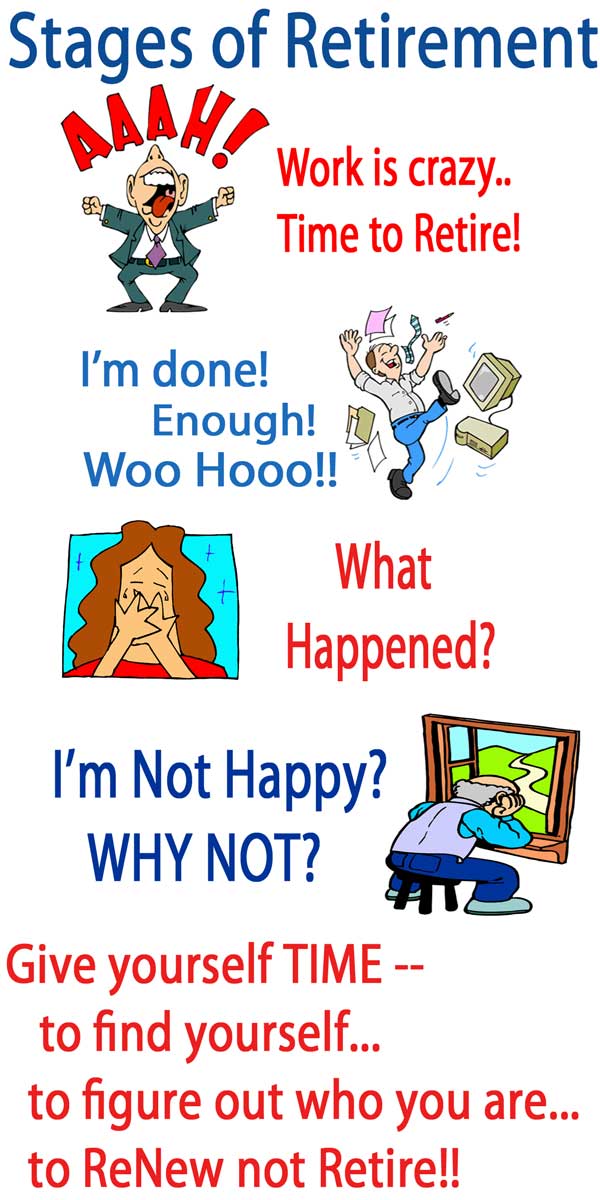 Retirement Activities are really important for our mental and physical well being! 
You've never just sat there, day after day, all of life -- why on earth would you do that now?  Just because -- age.
Use it or Lost it -- get busy and use your physical health and your mental abilities.
What will YOU do after retirement?
Retirement is the next big adventure in life -- to the worker bee, it sounds so good -- retirement! BUT after you've been retired for a few weeks/months, then what?
Whether you choose to retire at age 50 or age 70, You can't just sit there -- you  really  can't...
You don't quite know what to do all day - day after day - but you do logically know that sitting like a coach potato is NOT good for you, Mentally or Physically.
Keep Your Brain Active
Did you know that, in retirement, your ability to learn new skills, the ability remain learning, is the same from age 20 to age 60?
Your brain doesn't stop learning, as we've been told, unless you stop using it. Don't stop using it!
If you are the stay-at-home type of retiree -- use puzzles to keep your mind active and growing.
We all need to be challenged in life... we need to continue to think. That, in part, is why I retired to the internet... to keep challenged mentally.
There are so many ways to keep busy...  whether by reading interesting books and using your imagination, working on creative projects, or retirement hobbies, volunteering, or even working part-time.    
Another idea -- watch a retirement movie to put aging and retirement into perspective. If you are new to retirement, read about the 2002 About Schmidt movie with Jack Nicholson. It's an eye opener! Perfect for new retirees -- it's not just you!
Another retirement movie that I LOVE is the Best Exotic Marigold Hotel.  I have watched that movie over and over! I love the nuances of the different characters and how they experience retirement and their own mindset on aging. 
Retirement Ideas for Keeping Busy 
Register for my emails series: Retirement Ideas and you'll get lots of ideas, in the hopes that you will find a things you'll enjoy doing, something new, something old. I hope some ideas will hit home with you! 
Happiness is finding your true retired self!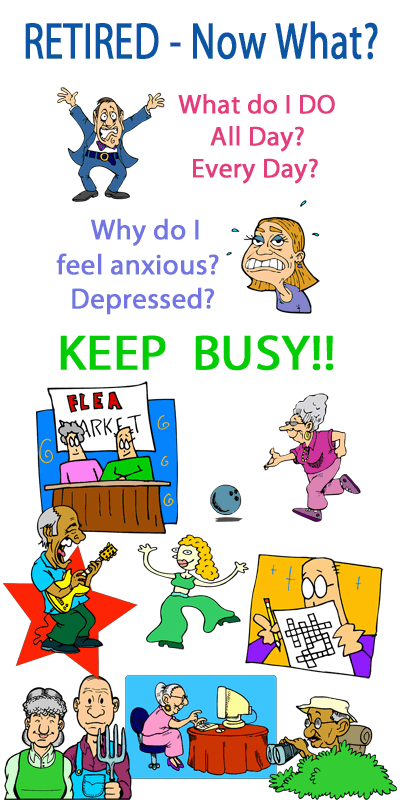 Do you have Retirement Anxiety?
You are not alone. Many retirees feel anxious after retirement -- a whole new avenue in life. Read their shared stories and learn how to move forward!
Lifelong Interests or New Interests?
You might consider things to do that you've done for years in your off-work hours. You already know that, as those interests are close to you. 
Now -- go back further. Think of your pre-work years... what did you totally enjoy as a young person that you might be interested in again?
Think about talents from your youth that you never had time to pursue (arts, music, book clubs, writing, painting, playing a musical instrument, stock car racing, fun stuff!) 

Do you have anything special you are interested in -- but never got seriously involved in? Local sports, Veterans organizations, local politics, state-wide politics (thinking bigger), community meetup groups, what else?
Something abandoned long ago, or something you've never bothered to get more involved in -- NOW you've got the time.
Look in the next Adult Ed advertisement you get from the local high school or community college. Why not take a class?
Learn to do something new (crochet, healthy cooking, writing), or renew your knowledge on a subject (car repair, psychology, gardening).
Never Stop Learning!
Make an effort to get involved. People don't walk up and invite you. Ask questions. Reveal your interest and see what happens.

Friendships
Are you the Social Butterfly? Do you want less socializing and more close friendships?
How important are your co-worker relationships? Do you have a support system away from work?

Pick up that phone, or write a letter, to a long lost friend... you both separated when work lives and raising families made it nearly impossible to keep up a friendship but you might just renew the friendship again!
Find new friends! Join a book club at your local library, church groups, or call upon an old friend you haven't made time for while you were busy working.
Find a new friend, a kindred soul, a senior pen pal in my Retirement Community with whom you can share life through letters. Just register and join in on the chattering fun!
Do you need structure in your days?
Do you need structure in your life -- a reason to get up in the morning?
Try my free Morning Makeover Challenge -- just 7 days to reconsider your morning routine for your best retired days!
Work? Volunteer?
Will you work in retirement  or become a senior volunteer? Both will help keep your skills updated, and your brain functioning.
If you are one like that, you might NEED something in your life... part time work, volunteering, some sense of a time table on life. Do some community service -- give back to your community while you are actively able.


What Will YOU Do In your Retirement Years?

What will you do with your day when you retire? You spend 8 hours a day at work (or more), and suddenly you have 8 free hours every day. You can't just sit in a rocker, no way, so what now?

Tell me what you do to keep busy (mentally and physically fit) on a daily basis! Help others to keep grounded, and live happy and productive retired lives!

Thank you!
Read about what other Visitors have to Say...
Click below to see tips on What Not To Do from other visitors!