Testimonials
Just sharing some testimonials from retirees who have used my site.  I don't often put one here, never remember... but every so often, someone like Zaida steps forward and simply WOWs me. THAT is why I do this site.

Many Many Thanks, from the bottom of my heart, for sharing here... 
| | |
| --- | --- |
| Thank You! | |
---
Wendy , I would like to thank you from a special place in my heart!!
I retired 12/2021 after an almost 40 year career in Long Term Care.
Your site and the friends I met on the site in my first 6 months helped me navigate my adjustment.
Retirement indeed a life changing event!!
Thank you Wendy
You are truly an amazing person!!!

<RLR>   (4.2022)
---
Wendy Fisher, I jumped for joy when I read your email about the FB group!! This is awesome and thank you so much for the invite. Because of your encouraging emails, your influence is helping me to get out of my retirement box. Just yesterday, I attended a Meet Up Group of people who are either nearing or are already retired. We shared our joys and struggles. I would have never ventured out to gather with people I do not know if it had not been for your encouragement to all of us to keep living and have fun. The group was so wonderful, and we are making it a monthly event. Bless you Wendy - enjoying all of the postings already. Have an awesome day. :) :)Christine McGruder (9-2016)
This site has some great ideas to help you on your journey to change but remember you are unique and not everything that works for someone will work for you. I have found that it is the combination of articles you can find here that is best. I love the ones that make me laugh, but read some that make me cry, and some make me envious, but for me it's the ones that make me want to get up, exercise and be healthy not wasting the gifts God has given me that have really helped the most. - Anon from Michigan

I have long wanted to acknowledge the good things you've been doing for us retirees, how you keep us useful and most of all cared for without any strings. Your untiring passion to  coach us is so amazing.  Gloria Lauzon (6-2017)
I love this newsletter, Wendy, and the fact that people can contribute.  thank you. Guinn Shaddon (8-2017)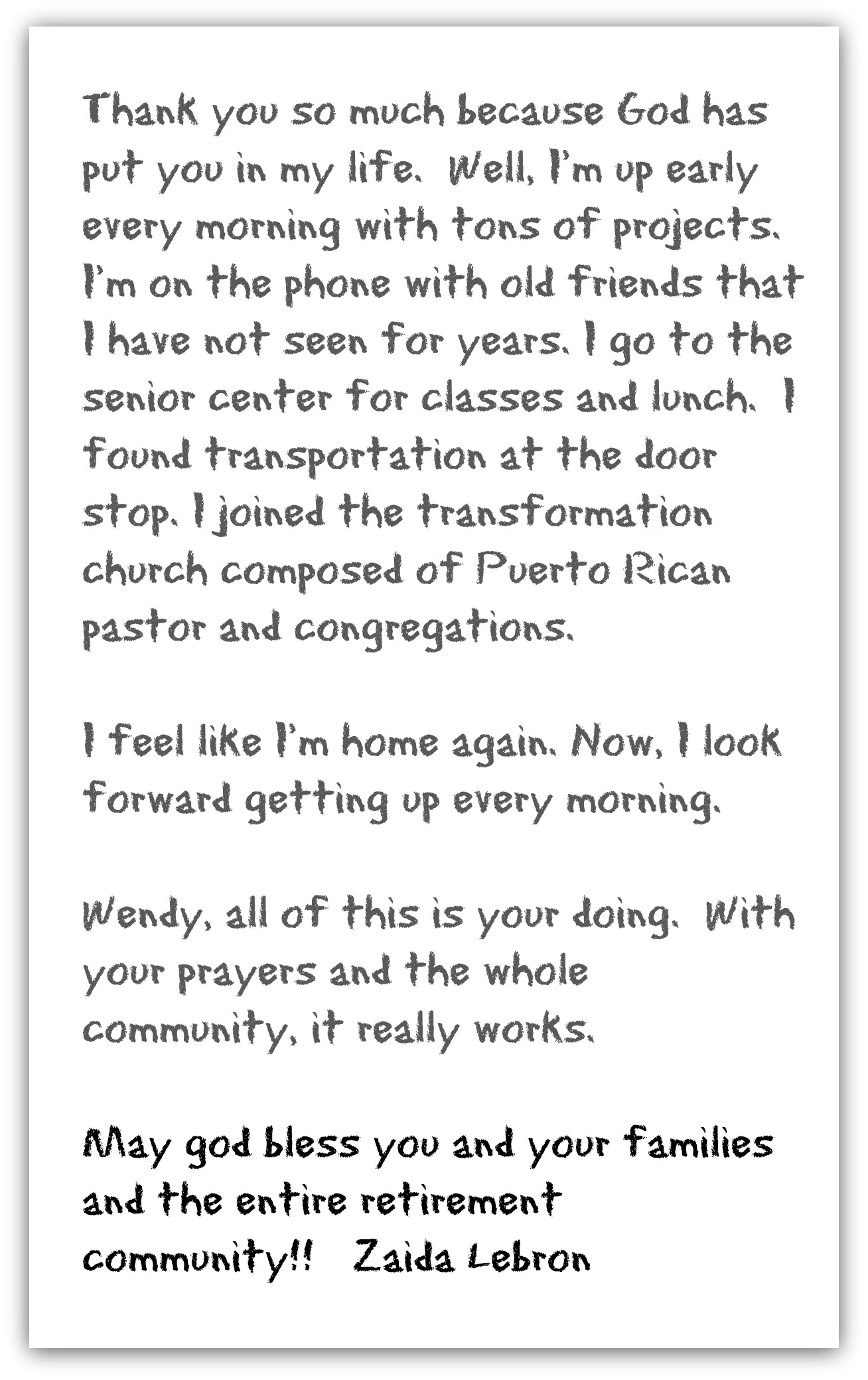 I just wanted to say how grateful I am that I  found Wendy's wonderful help group!  It has been a life saver! 
Read all the posts every week and it let's me know I'm not alone or different. Gives me hope and inspires me! 
Thank you Wendy and all of you retirees out there -- Sandi 8.19

Hello Wendy,
I am just sending you a quick note to thank you for this wonderful resource, and all of the great information you provide.  I have been blessed by so much of it, and I eagerly look forward to your newsletters.  I cannot honestly say I do the same for other information I receive on a consistent basis.  

Retirement has definitely had it's challenges for me, but as soon as I hit a little slump, your newsletter seems to arrive right in the nick of time.  I pray you know what a true blessing you are to so many.
Have a great week and thank you also for sharing about your visit to the VA hospital. How blessed are we to have such extraordinary men and women to give of themselves in such an unselfish way.

Enjoy your evening.
Christine   (8-2016)
Back in early June I sent a letter to your web site.  You have so many letters, you won't remember, but it told of how my wife and I moved to our retirement home in Arizona, but I just could not adapt, and eventually sold the house.  I never expected any response, or to even have you use it, but you did.  I received many comments from people who are dealing with the same problems.  

I wanted to thank you for the work you do on behalf of all the people struggling with retirement.  You truly make a difference.  As for the kind people who responded to my letter, I will continue to hope they find peace.
One good thing has happened.  We were fortunate enough to rent next winter in the very same 55+ community where we had our home.
It's going to take time to overcome the pain and guilt of acting too quickly on selling my home.  Knowing there are people like you and your contributors makes it easier to cope. 
Please continue this wonderful work you do, and thank you so much.
Sincerely, Jim G,  Southcoast MA (July 2016)
A Compliment
A truly dynamic and special person is the woman who started this site... Retirement-Online.  It has been a wonderful place to share thoughts, opinions, art work, music plus all the other fun things.  Her advice and encouragement have been a valuable treasure.  This is someone that I feel should get loads of compliments on this National Compliment Day!
Best Wishes,  Nina Yakimiuk, United Kingdom
Thank you, Wendy for this site. I have been looking for something like this but could not find. It is nice to find "like person's like myself" and to know that I am not alone.     Mildred, Tn
Wendy,  I love your website! It's been my salvation many days! Thank you from the bottom of my heart for this wonderful website and all you do! God Bless   Cyndy Ellermeier 
Hi Wendy,

I have met some really nice people through you website.  I have gotten busy due to it being summer so I don't have as much time to interact as I did before, but I will be back.  Thank you!
Have a good day!
Bente Genereax
Your site is super!  Keep up the outstanding work. Donny P

Wendy,

I enjoy getting your emails. I'm not retired as of yet but I am collecting information to prepare for the future. Please keep 'em coming.
Thank you,
Mike Andis
I am good. I do find your website and what it shares very helpful. Thank you.

 Helen Sengbau
Thanks for all your hard work...always enjoy receiving your e-mails...

Charlotte Harris

I just want to thank you from the bottom of my heart for starting Retirement Online.You and your following have helped me navigate through my retirement journey.
It was very comforting to read your story and all  who have written about their retirement process during the beginning of my journey

I was "lost at sea".  With the advise of you and others, I have slowly rediscovered myself, joined a gym, spent invaluable time with my healthy 80 yr old parents, cleaned my house, enjoy spending time with my husband.

In the beginning I would become tearful missing the healthcare workplace. I dont miss the hectic pace, I miss the social aspect of working.  I was recently offered a part time consultant job in my field.  I will utilize some of my skills in a  much less fast-paced environment.  I will also be working  with some of my former coworkers!
Thank you again for your help through my retirement journey. I have learned so much about myself in the past year and half.  I know one day I will be able to help someone navigate through their retirement adjustment!
You are an intelligent, wise woman to bring this website to us!  Good luck with all of your projects.
Sincerely, Rose Halstead, PA
Hi Wendy,
I enjoy your site and reading how other's cope with retirement.   It bothers me that people complain about something that could help them!  Is it when we reach a certain age we get so cemented in our thinking we can't be open to new ideas?  Please be assured I would like to continue to hear from you and other members.

Sincerely yours,   Gerry
Do you have something to share about Retirement-Online.com?
Do you have a great story about this? Share it!
What Other Visitors Have Said
Click below to see contributions from other visitors to this page...