Declutter Your Retired Mind
Is your mind running YOU in circles?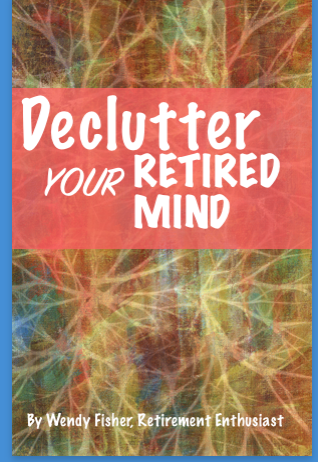 Declutter Your Retired Mind

This ebook could help you chill out that never-ending mind chatter. I sincerely hope it does!
I am coaching you via this ebook... baby step by baby step.  
Anyone can read a book, but without taking real action, it doesn't mean much and it surely can't change your life.
I hope you will take this book to heart -- do the work and change your life! I took the time and effort to write it -- you do your part and take action. 
I ask you to take real action -- because I know how many books and classes I have purchased, and wasted my hard earned money. 
I will help you to move you forward towards a healthier, decluttered, peace-of-mind retired life.  Getting the "stuff" off your mind will help tremendously in so many parts of your life!

Table of Contents:
Introduction 
The Primary Causes of Mental Clutter 
Your Home Environment

People

Distractions 

Thoughts 

Mental Habits

Everyday Stress

Decisions

Unfinished Business
Dealing with 
Thought-Based Clutter
Your Breath is the Key

Overcome Negative Thoughts

Clarify Your Retired Purpose
Conclusion 
Declutter Your Retired Mind book 

Buy this eBook
Only $5.