Senior Relationships
"Everybody Needs Somebody Sometimes..."
Dean Martin crooned, and Senior Relationships are really important.  ALL relationships are important...but when you are aging, you need people. We were made to have people around us.
Senior Relationships for Baby Boomers
As in your pre-retirement days, we all need to share life with others. You don't necessarily need marriage as friends and family can keep you active too... you just need SOMEONE to chat to and enjoy others company.
Some seniors are lonely. Please don't just Sit There and say you are lonely -- get out of that house.
Just get out -- shop, eat out somewhere, start a conversation with someone having coffee somewhere, run to the library, just get out of that house.
There is a difference between being Lonely and enjoying solo life. Lots of retirees enjoy living a single life! Read more here.
You might seek out new friends at church. If you don't attend one, try it. If one doesn't feel right, try another, every church is different. Christian Seniors are everywhere and offer great friendship opportunities!
Marriage in Retirement
Suddenly together -- 24/7, marriage in retirement takes some time for this adjustment!  I think this is especially true when one retires first, finds their retirement groove (routine), and then the other retires. Interesting!
Then, I wrote my own two cents on Retirement: Time to Invest in Your Marriage
Death of Your Spouse
Death of a Spouse is a horrible event in anyone's life... whether expected (we always have hope) or not. There is grief, but you can get past this. Give yourself the time to grieve what you've lost, give yourself time, then kick yourself in the pants, and get back into life. Whomever is left is always stuck with more life, right?
This retiree decided to step out of his comfort zone... Now what? indeed!
Divorce at Retirement
Divorce at Retirement can be a great "freedom" into your new life, or can be terribly depressing. What about new relationships after divorce? Like anything in life, divorce is what you make of it - get over the settlement and don't make the lawyers rich with your divorce fees (save that money for living) and build your new free life. If you need counseling to get past this, do it -- life awaits you!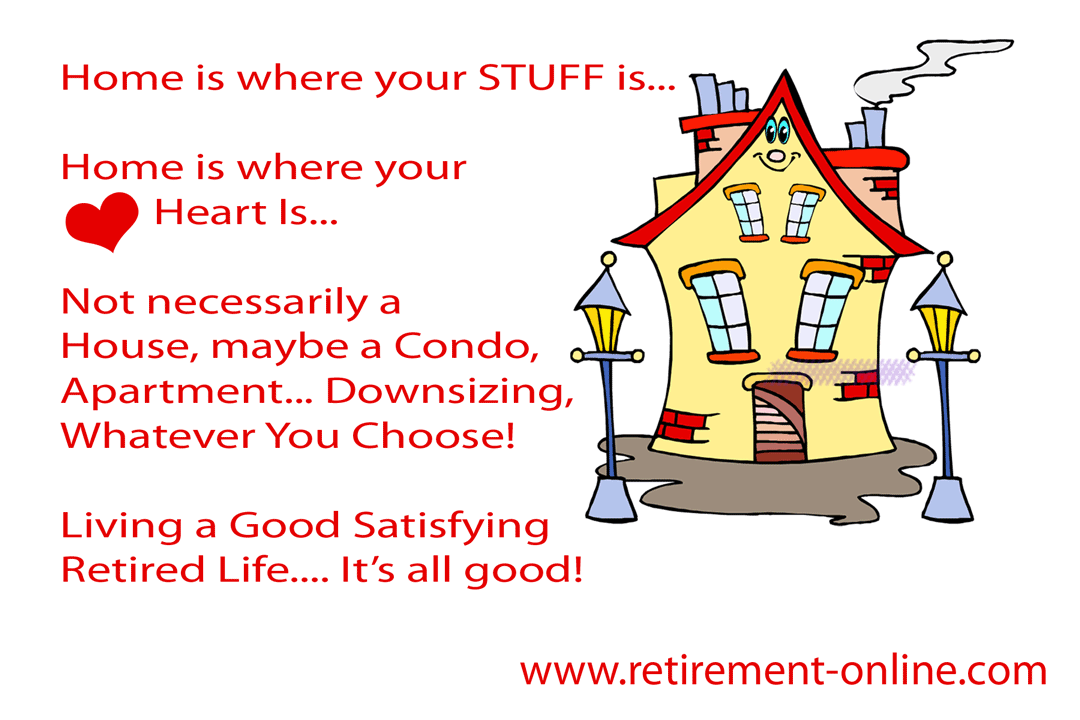 Homemakers in Retirement

Homemakers in Retirement - hopefully the "stay at home" moms, as retirees, have friends they can meet for lunch and some gardening. We need to maintain friendships into retirement.
Hmmmmm, Homemakers, in retirement, do they ever really retire anyhow?
Dating for Boomers and Seniors
Dating for Seniors... Ideas on where you are headed and some stories from single seniors. Can we have "friendship" dating to get both parties out of the house for dinner... we all need senior relationships!

Grandparents Raising Grandchildren
Do you realize how many Grandparents are raising Grandchildren?

Adult Children
Adult Children are one more issue in retirement. This can be great for you (grandchildren in the home) or it can be a hit on your pocketbook or home serenity if they move back in.
Many retirees have written on this site about moving to be near children, and quite often, it just doesn't work. Ricardo nailed it here...
This is my own funny McDonald's for Retirees Story. Just a day with my parents, and yes, I am the Adult Child here. Grin!
Aging Women need Friendships
Aging Women need other senior relationships in Retirement. This link is what some retired women think about their gal pals. We must value our friendships...

Have you ever considered Senior Pen Pals? You can connect with other seniors, nationwide or worldwide, to share thoughts, share life, email by email!

Share your two cents on Family Issues after Retirement!
Do you have a story to share with others? Your two cents could help another retiree feel more comfortable with this idea, or might give them the warning signs on how this won't work in their circumstances. Share and help someone else out there...

Learn from others... check out their Two Cents!
Click below to see contributions from other visitors to this page...

Return from Senior Relationships to More Retirement Advice....