Fun Retirement Party Ideas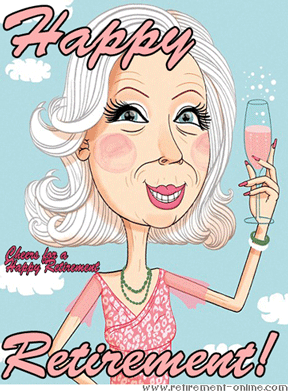 This page is full of FUN Retirement Party Ideas, but don't miss the ideas here too: Retirement Party Ideas  -- some retirement parties are sentimental, but this page is for the FUN retirement parties!
When planning a retirement party, you must first take the new retirees wishes into consideration as they may have definite opinions on this.

To those not yet retiring, it's all fun... but to the new retiree, it's downright scary sometimes, please don't give them more anxiety.
If the new retiree seems a bit nervous about retirement, or if they aren't the funny type of person, keep the party to the minimal to honor and respect their feelings too.

 What type of party are you hosting?
Will be a small intimate affair or a huge lavish party?
Is this a retirement dinner or a munchies and desserts open house party?
Do you want to do a theme party?
How many will you invite?
Admission fee (dinners) or open house and everyone brings a dish like in office settings?
Is this formal or casual dress?
You want to ensure that the retirement party is as memorable as their long career. Do you invite past retirees? current employees? family/friends? Bringing everybody together is a perfect time to have a look back at a lifetime of work and good times.
Retirement Cards
How about a fun 2 foot X 3 foot Retirement card (envelope too!)
Get everyone to sign it and make it a keepsake items for the new retiree! 
Need help with your message inside the card? Try retirementmessageideas.com or find some quotes and such here too! Maybe print out a page or two for your co-workers to choose from... and add personal messages PLUS some cool quotes to make the card both personal and thought provoking too!

Retirement cards, big or little,  are a great way to give the retiree a nice sendoff, and with a handwritten and personalized message. Just think... your retiree might revisit your card years from now and remember you!

Retirement Gifts
Everyone Loves Dr. Suess... and catch that sub-title "Obsolete Children". Love it!

Looking for Ideas for a Retirement Gift?  I got em!


Click to view on Amazon!
| | | |
| --- | --- | --- |
| For Wine Lovers: Click to read the labels! Cool! | For Cooks: Fun Fun apron, mitts & potholder! | Retirement Travel Blessings |
Click to view on Amazon!
Retirement Speeches & Jokes
You need some good retirement quotes and jokes for retirement speeches, printed signs you can hang everywhere, funny stuff to keep the party rolling!   Let the laughter flow with these funny retirement jokes. The first one is the best! My personal favorite - grin!

Retirement Party Supplies
Retirement Party supplies can set the tone! This is where a theme party might fit in.
Retirement Cakes
Retirement cake ideas here. Find one to make a Theme Retirement Party, or perhaps focus on the new retirees hobby! Get creative with the cake itself! 
Lots more ideas here: Retirement Party Ideas!