GO -- BEFORE IT'S TOO LATE!
by Sheila White
(Cambridge, Ontario, Canada)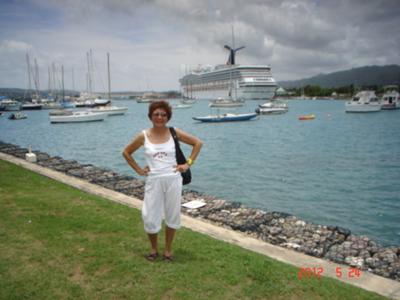 YOU CAN NEVER GO BACK
I am 87 years old and just returned from Jamaica. Now, I'm sure there are many that age and older who have travelled and enjoyed it, but for me it was the last trip I will ever make.

My husband died six months ago and it was our plan, made while much younger, that our ashes should go to Jamaica where we had spent many wonderful holidays. So, off I went to fulfill my husband's wishes.

Happily, I had a younger companion. She had never been there and was looking forward to it, while realizing that she would be part nurse, part guardian for me. And she filled that role very well.

It had been 12 years since my last visit to that island and that particular hotel, and what a change I found!

While the streets were cleaner and less potholed, they were also busier and noisier. While the hotel was in the same place with the same ocean at its doorstep, it was busier and louder than it had ever been during my 21 visits there. It was hot, but hotter than I ever remembered it. And while some of the folks I had known still remained, older yet recognizable, they barely knew me and I was embarrassed a couple of times by interrupting them in their busy lives.

Fact was, I had left it too late. Oh, I couldn't have gone any earlier because I wouldn't have had my husband's ashes, but it showed me clearly that if you have a favourite place that keeps reminding you that you would like to go back someday -- do it now! Don't procrastinate another day.

And if you are 87 like me, think again, think more than once, before making plans. I did as my husband wanted, but was it worth it? No. And I'm sure that somewhere he is shaking his head in agreement.


---
Wendy:
Sheila -- Kudos for taking the trip!
If you had never gone, you likely would have regretted it for the rest of your life. You waited six years after your husband died, so it must have bothered you that long. Now - no regrets - you've done what you set out to do!
Kudos to you!
I wonder if -- well, we so often dream of something big like this and our memories are distorted. We maybe anticipate and hope for more than might normal happen? Time changes everything, we are older, places change and yes, it's never quite the same. Our imagination of the travel event is usually (at least to me) better than reality.
Even if you are attending an event at home, I tend to think of how it will all play out -- only to be disappointed so often as I imagined more than reality. Maybe it's just me...
Anyways, I'm thrilled you went... Fun Fun!