Green Valley, Arizona

The Snowbirds Have Flown, but the Desert is Alive and Well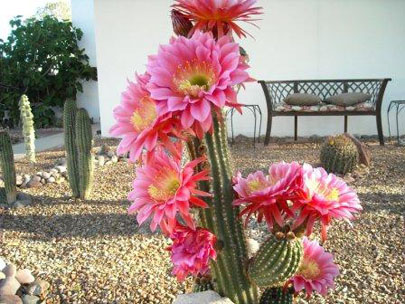 Trichocereous Cactus
By
Michael Yeager
It's starting to heat up here in the Arizona Sonoran desert of southern Arizona. Every day the thermometer is tipping up into the 90's.
For the first time since we've moved here last November, we've had to turn on the air conditioning in the middle of the day.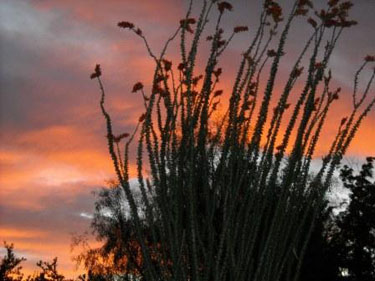 Ocotillo at Sunset
The ritual is, close up the condo about 3 or 4 in the afternoon, switch on the AC and then around 7 or 8 when the sun is slipping down below the horizon, open it all up again.
At night we start out with just a sheet, but in a few hours we're pulling up the blanket. In the northwest we invited as much sun into our homes and lives as possible, here as summer approaches, we're blocking it out.
The Snowbirds have fled to the coolness of the north and the proximity of their families. Green Valley has dropped more than half of its population.
We can now shop at our favorite grocery store without the hassle of lines and go to one of the many Green Valley Recreation Centers whenever we want to. There's always an exercise machine available and in the heat of the late afternoon the pools are almost vacant. We have pools in our condo complex as well so there is no excuse for staying hot and dry.
Some of our friends are gone and we'll miss them, but on the other hand, it's so nice and quiet without the loud talkers next door. Too bad the lady with the yappy dog didn't go anywhere.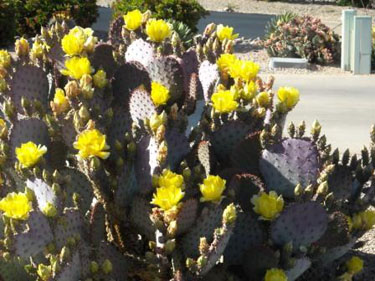 Santa Rita Prickly Pear Cactus
With the approach of hot weather the desert is coming alive. Many bushes, trees and cactuses are blooming. We've been taking our camera with us when we go for walks. These desert plants really are spectacular when they're in bloom.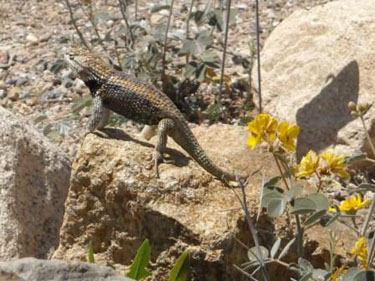 Lizard on Rock
We're also beginning to see all types of lizards. They scurry up onto the top of rocks as we walk by and observe us while doing push-ups. I don't know why they do that. I am determined to take a video of this phenomenon to show my little grandsons.
If the lizards are active that means their cousins the snakes are as well. At our laundry recently signs have appeared that instruct us to keep the doors closed at all times because snakes like to come in uninvited. I don't have a problem following this rule.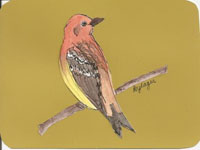 Flame Colored Tanager
As amateur birders we've caught sight of some amazing birds that have only recently come into the area. For example there are four types of Tanagers here in the spring and summer; the Summer Tanager, Western, Hepatic and Flame-Colored.
The other day we went up to Madera Canyon for a hike and to do some bird spotting. We happened upon a young couple from Indiana traveling by motorcycle. The young man knew his birds and was determined to show his girlfriend a Flame-Colored Tanager. They were standing by the side of the trail and he said he could hear one singing up in the trees. We hung out with them for quite a while and sure enough he finally spotted it way up in a Sycamore.
After he was certain that his girlfriend had it in her sight, he patiently guided our view up the tree and out along a branch and there it was, right between two clusters of leaves, brilliant reddish orange fading into yellow with white-striped black wings. The young woman didn't say too much about it. I think she was more enthralled with him and his excitement about showing it too her.
As we continued on our hike, we heard a motorcycle leaving the canyon and assumed the young couple was taking off for further adventures. We're still looking for the Elegant Trogon which has been spotted in this same area, but continues to elude us.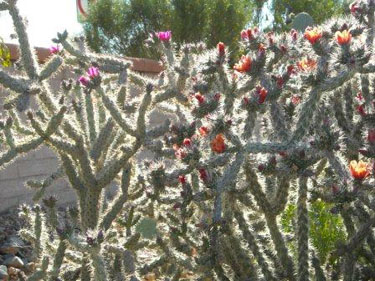 Cholla Cactus
As the temperature continues to rise, we are learning to adjust through trial and error and by talking to the "year-rounders" we encounter. They all seem glad the Snowbirds are gone.
They tell us it is a much more peaceful place and that they are relieved not to have so many activities to be involved in, sort of a vacation in their own home. We head with a little apprehension into our first desert summer, but we're interested in learning and adjusting to the rhythm of the summer.
We plan to travel to the many mountainous areas where we can visit small towns and hike in the higher altitude where it's cooler. Our fellow "year-rounders" model a peaceful confidence going into summer and we are happy to follow their example.
Read more about the Retired Life in Arizona, written by Michael Yeager!