Michael Yeager

Living in Green Valley, Arizona
This is Michael Yeager's introduction... I wanted you to read his bio/background so you understand, better, where he is writing from! Wendy
Taking the Leap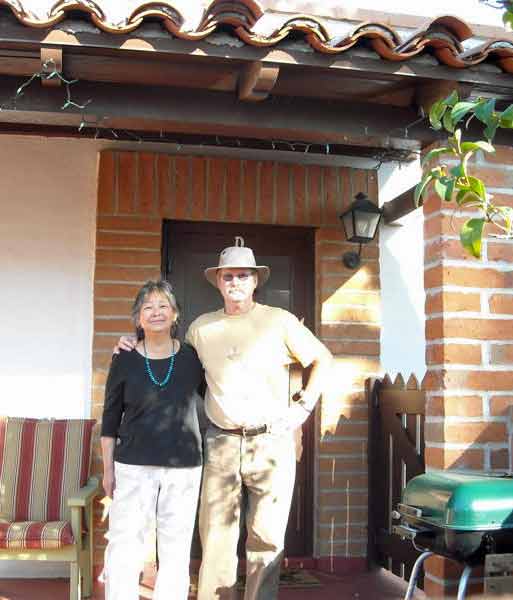 Michael and Katie Yeager
I didn't plan to retire this soon, but when my wife Katie suggested it, the idea began to germinate and then took hold of me. I had worked as a mental health counselor for about 30 years. The last 5 years I worked almost exclusively with combat veterans. Even though I loved being a counselor, the stress had taken its toll and Katie saw it better than I did.
With the thought of retiring soon, I began to realize I had no more ambition in my immediate field. I didn't want to teach workshops, I didn't want to open another private office and I wasn't that interested in all those trainings I was required to go to for my license.
UPDATE:  In 2014, Mike published his first book! 

Congrats from Wendy! You are doing retirement great with new challenges! Love it!

Read more here:
Finding Myself In Retirement...
OR click on the Amazon link!
When Katie and I first met in Eugene, Oregon in the 70's, I was in graduate school and renting a house with a friend. She was living in an extremely small studio apartment in the back of a house. We were both working as nurses' aides at a local nursing home. I worked nights and was writing a novel. She worked days and was actively doing crafts and artwork. We also worked in a booth at the Saturday market making and selling burritos. We were poor and we were happy, especially after we found each other. We knew then that our happiness had nothing to do with having a lot of money and possessions. It did have something to do with having good relationships, engaging in meaningful activities and cultivating the joy of being alive by doing something creative.
Katie retired from social work in March 2009 and I was turning 62 that October. Our jobs in the social services field did not have pensions, so we could not retire in the way the experts write about in the magazines. Not one of them would have advised us to retire at the time. Our "portfolio" would have made them laugh or just pity us. My wife began researching how we could both be retired and live on our social security checks. Anything extra we earned would be gravy.
First we had to get rid of all outstanding debt. That meant paying off credit card bills and selling our travel trailer and the SUV we had to pull it. We owned a good car and a motorcycle. The whole plan hinged on selling our house to get rid of the mortgage payment and make enough profit to buy a less expensive place outright. If we did all that, she reasoned, I could retire.
The housing market was tanking, but we had fixed up our small two bedroom house and it was affordable and attractive, especially to first home buyers. Within 10 days after putting it on the market, we had two good offers. Yahoo, I was going to retire. We were willing and anxious to relocate. We wanted to move back to the southwest. We had previously lived in Prescott, Arizona and liked it. We searched the internet for inexpensive places to live and found affordable condos in Green Valley, Arizona. I read that Arizona's housing slump was second only to Nevada's. This worked to our advantage. I took a week of vacation and we flew from Washington to Arizona and had a real estate agent show us the condos we were interested in. We liked them and were able to purchase one for $67,000.
It is in a one story 4-plex, has two bedrooms and one bath. There is a patio in the front and a small stoop patio in back. It has a small storage area. We spent a lot of time paring down. We did not want to pay for a storage unit and go back and forth looking for things. It all had to fit in this 600+ square foot condo. We got rid of so much stuff: lawnmower (I'm very happy about that), garden and house upkeep tools, extra furniture, books (there's a wonderful library system here) and lots of stuff we didn't use or need. Our freedom was more important than having a lot of stuff.
So far we love the lifestyle down here. We've had numerous visitors since we moved and they all comment on how good we look. Maybe they're just being nice, but not having the stress of the "daily grind" and waking up each morning to another sunny day has its health benefits. We have swimming pools and fitness centers at our disposal and there are all kinds of activities. We hike and bike and love going to Tucson which is 30 minutes to the north or Mexico which is about the same distance to the south (but more about being retired in the southwest in later articles).
Most people looking to retire never reach the ideal position that the "experts" advise you to be in. At some point, you need to take the leap and trust in you own inner resources. Retirement is a new beginning and a time to reinvent your self. Katie and I approached retirement with the attitude that we are not afraid to live more simply. We are again embracing the bohemian lifestyle. After all, how much stuff do a writer and an artist really need.
Peace, brothers and sisters.
Return to see more of Michael's stories...