Mom's 90th Birthday Party
by Wendy
(www.retirement-online.com)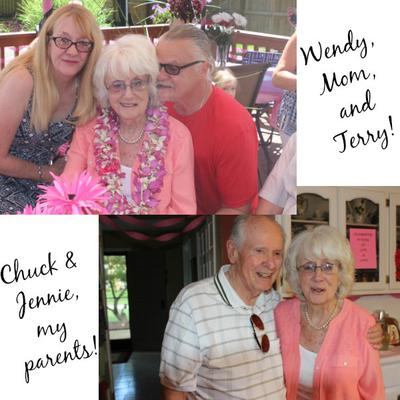 There are 3 photos here... be sure to click on the smaller one under the large photo to view them all! Thanks!

Last Sunday was my Mom's 90th Birthday party... family and friends attended (only 3 who were invited didn't attend too!) Woo Hoo!

We had PINK everywhere (as you can see from the photos) and flowers too! Mom wore a peachy/pink top, not even knowing about our PINK everywhere... that made our photos just rock!

Food was catered and fabulous -- and the desserts were delicious! Mom was so surprised and she cried happy tears all day long!

The first couple to arrive was a former co-worker from 30 years ago -- mom was so shocked and really wasn't sure who the gal was! She was hugging and crying with her... so very cool. An hour later, another former co-worker arrived and the three of them promised each other to do lunch soon too.

We also invited two neighbor couples -- again, totally unexpected by Mom. She was sooo surprised to see them there!

Lots of family there, as you'd expect. I added the photo of our four little girls wearing matching pink dresses... they looked adorable! GRIN! I have no children, they are my sisters two granddaughters from each of her two sons. Her daughter has no children, yet!

Anyways, Mom is the Great-Grandmother! FOUR GENERATIONS! How cool is that?

We told everyone NO GIFTS... but Mom is a card-lover, so we asked for birthday cards with handwritten messages inside. She got plenty of them and loved reading them that night. Many had gift cards inside and she got lots of fresh flowers and boxes of chocolate too.

All in all -- she couldn't have been more pleased. She didn't even YELL "I said no party" at us! :)

Good Times!