Retirement: My Dog, ChiChi, Died
by Wendy, www.retirement-online.com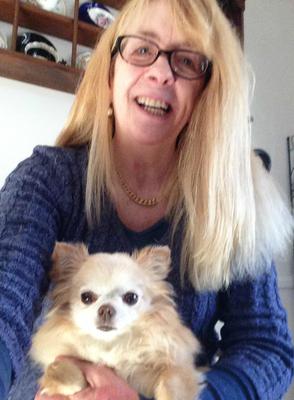 Wendy & ChiChi, 3 weeks ago
On December 13, 2016, I lost my buddy, ChiChi. She was my constant companion - I talked to her all day, took her out, fed her, and she was just THERE all day long.

We've owned a few dogs before... but it never affected Terry or I as much as Chi's death has... I wonder why?

Are we closer to our pets post-retirement? When we are still working, they are night time companions but that's really about it. But when we retire, we are with them day in and day out. Our days revolved around ChiChi... seriously.

For days now, we've both cried at anything -- nothing really at all. Our daily routine has been upset and for days now, we do it all differently.

-- First thing in the morning, she went out then demanded her biscuit. I miss that!

-- Her bed is gone, couldn't bear to see it, and yet there is a big space next to my recliner that is strangely bare. Uggg!

-- We haven't eaten dinner at the table yet. Terry always yells OKKKKK, which makes Chi run for dinner, excited. We made a whole chicken the first night, sat to eat, there was no ChiChi running for dinner and no ChiChi to toss chicken pieces down to. Suddenly - I can't eat, and either can Terry.

-- We don't go out back time after time. I haven't touched the back deck in days. Terry used to take her out for a long walk every day, she chased the squirrels and barked at the ducks we feed (until they got the message and flew a bit). No More.

-- I always took Chi up to bed with me. Now I stay down until Terry is ready for bed (midnight). We sleep on opposite sides of the bed so he can continue to watch tv in bed, while I sleep. When he gets up early, I do too... instead of waiting for Chi to wake me up to play in bed.

-- I swear, I tried to sleep in, alone, the first morning... but, in my sleep, I felt her little foot rubbing on my back and heard her licking her dry lips. It happened a couple times... I woke and ran downstairs as quick as I could. I know this will make me sound like I'm crazy, but I swear it happened (in my imagination or whatever.. sure seemed real)!

Life is suddenly totally different... and I miss her like hell.

WHAT HAPPENED?

She has had small seizures lasting a few minutes for months now. The vet said it's age, and normal. She had one at 4am, and I came down with her afterwards. Some time later, I had fallen asleep but heard a weird noise, and found her having another seizure... it lasted for two hours. Terry dug out from the snow storm, we found a vet hospital and were on the road early that morning. Maybe 7am? I don't really know... they gave her an IV and when we saw her, minutes later, she was asleep and totally calm. I felt much better seeing that her struggle was over... I was so afraid she'd die in my arms on the way to the hospital.

We left her overnight to run blood tests to assure nothing was internally wrong. She never recovered....

We visited the next morning, and they took us into a sterile looking room to wait for her. When they brought her in, she was sleeping, snoring like she always did... and on a beautiful white fluffy blanket. When I first talked to her, her ear flickered a bit... I knew she could hear me. Her eye peeped open (a little slit) at one point too. She seriously looked as though she was only sleeping. The compassion this hospital provided for ChiChi and us was really really incredibly thoughtful. She was euthanized and though heartbroken, we were comforted.

Today, five days later, we received a Sympathy card from Advanced Animal Emergency, signed by the staff, and with a tiny packet of Chi's ashes inside. Crying, once again, but ever so grateful for this compassionate organization.

Thank you AAE from the bottom of our hearts!

If you have a pet, please hug them today! Don't delay... give them a big hug from me! Thanks!