Retirement Planning Tips
Your Retirement in Your Time: 
Top Ten Reasons to Retire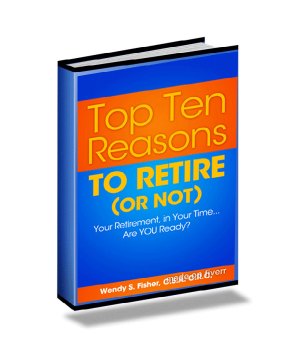 Free Retirement Planning Tips from my E-Book!
I wrote this e-book and pray that it helps just one person through the retirement decision and their retirement transition period.
This is simply my two cents on what I think are the Top Ten Reasons to Retire (or not... if you aren't ready). My ebook will make you think about the concept of retirement. It will help you determine if you are ready, or not. It might even help evaluate where your life might be headed. Lots of options, so you can think about what you want from retirement.

Retirement – we wait for it all our lives... 

"Woo Hoo! No more work!" and yet so many aren't happy when they retire.

I get it, you worried about finances in retirement for years now -- but many just don't think about the rest.
What IS the "rest"? Life. Retired Life.
After 25 years of working with newly retired people, and having retired last year myself, I hope I can shine some light into the decision of retirement and the retirement transition phase.
There are so many options to explore in retirement but we often fail to see them!
Time is an elusive thing... we wait for retirement "freedom" for years, then we retire and time either creeps by very slowly or flies by and we don't know where the days went. Fill your retirement years doing the things you love to do.
Retirement is a Journey, not a Destination!
I sincerely hope you enjoy my book and I welcome your comments!
Thank you!
Wendy, Retirement-Online.com

P.S. Subscribe to my retirement newsletter below and get my Your Retirement in Your Time: Top Ten Reasons to Retire E-Book! I hope you enjoy it!