Social Security Disability Questions
& Answers... and it's FREE.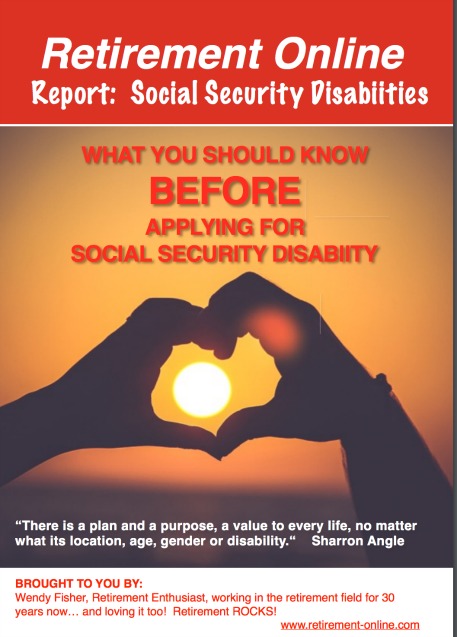 Free Book Registration:
If you have Social Security Disability questions, I've found a really helpful resource for you... The Disability Digest site, and it's free!
I worked with many disabilities over the years, and found how difficult the Social Security Disability process really is.
I get it - they get lots of frauds, so they have to be vigilant in the approval process. BUT the process is really not easy and very challenging -- and yet these are the people who aren't well, disabilities take different medications that only help with confusion, and it's a shame, to me, that disabilities can't be  helped in some manner to get the benefits that they deserve. Period.
I wrote this short report based on my experiences with Social Security. If you do it right the first time, you might have monthly payments as soon as you are eligible. If you do it wrong, you might have to start completely over... it's really heart breaking.
If I could answer these difficult questions for you, I would... but this is not my strength. I worked from the employers side only and I saw how Social Security challenged people. Yes, that's their job.

Grab my Free Report on Social Security Disabilities... it's a free download.
Introducing Disability Digest 
NEED SOCIAL SECURITY DISABILITY ANSWERS? Click to visit The Disability Digest website and become a member! DIY help so you can get your benefit approved OR speak to a Disability advocate for answers to your questions!
This website really has the answers on Social Security Disability questions for you. If you've been with my Retirement Community for a while, you KNOW I don't often send people to other sites. 

The Disability Digest site really did the research to know this SS Disability area and know it well. 
If you have a disability -- you are in charge of your life and should take action to apply for benefits that are rightfully yours. 
This is a free learning opportunity to dig into the Social Security Disability benefit and do it all correctly.
You can do it all alone... it's all there for you to understand and act upon. Sometimes this isn't the best choice. Someone with a disabiilty isn't feeling well, they take medications that impair clarity, so hopefully the DIYers have someone close to them who will also understand the application and watch upcoming deadlines.
You can also ask for a Disability Advocate to help you. The help is free and they guide your Disability along so you get the help you need. 
A very short Disability Digest video
Years ago, if I needed a Social Security answer, I'd call twice. If I got the same answer, twice, I was reasonably confident that I was good to go. If not, another call... I never knew if I was speaking to a long-term Social Security employee, or a newbie who was doing their best but didn't really have all the answers yet.  I honestly DID call twice. I had to... I was answering as the Human Resources Retirement Manager and didn't want to give out bad advice. Right?

The Disability Digest: where Social Security Disability questions are answered!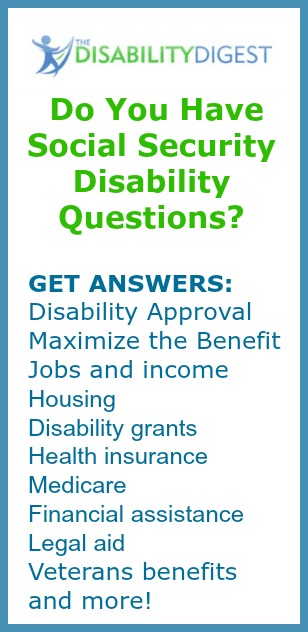 When you first click on The Disability Digest link, you will answer a few simple questions.
It's very easy to get membership here.
Then you will see the intro page:
There is a Video Overview and the welcome message that tells about the emails, audio interviews, lots of videos, and live events you will receive. All for FREE.
DO take the time to watch the video... get the most out of your membership. Learn from the beginning instead of confusing yourself later. OK?
THIS is what sold me on this site.... the wealth of knowledge lurking under that Members Area link.
First it's all about Social Security Disability Approval... you can even request to speak to an Advocate about your claim. Yes, The Disability Digest site has advocates that will work with you. 
That's really a great idea, you can speak to a real person who can begin to evaluate your claim and tell you how you are doing, or what you need.
Where else can you get that advocate help for FREE?
They tell you How to Maximize your Disability Benefit in four lessons... that has to help, right?

Take advantage of this opportunity and get your disability benefit checks faster than others that go it alone... and free help too!
NEED SOCIAL SECURITY DISABILITY ANSWERS? Click to visit The Disability Digest website and become a member! DIY help so you can get your benefit approved OR speak to a Disability advocate for answers to your questions!
Then, they have topics on:
jobs and income
housing
disability grants
health insurance
Medicare
financial assistance
legal aid
Veterans benefits
and more...
They also have stories from other disabilities, much like I do on Retirement-Online here. Look at a few to see how quickly they got through the Social Security Disability process... unlike most people.  They have webinars to help you too.
I hope you will consider membership, it's FREE and you will learn about getting exactly what you deserve from this Federal benefit.

Wishing you the very best!

P.S.  PLEASE don't waste your time and energy trying to go this alone, I've seen so many miss a deadline and start all over, or hit a roadblock. This free membership really can help you!