Start a Bed and Breakfast (B&B) Business
Would you consider starting a Bed and Breakfast Business?
Years ago, I remember a retiree who told me she and her son were doing just that! She had saved for years, purchased vintage fabrics, household items, furniture, all stored in her home. She sold the home and moved to Northern Michigan where they opened their Bed and Breakfast. It is quite successful, they hired a great cook, furnished the place uniquely, and customers love the place today!
If you've ever stayed in a bed and breakfast and thought, "I could live here" then consider the possibility of owning your own bed and breakfast.
Every September, we travel with my sister and her husband to Saugatuck MI for an anniversary weekend.
The four of us stay at a bed and breakfast each year. It's a big home, that began  life almost a hundred years ago, and has been remodeled (with several add-ons) over time.
Most weekends, they are booked full... not a room open. Our weekend isn't cheap either... it's honestly expensive.
WHY do we stay there?
It's unique. The retired couple who own it are so hospitable that you feel you are at home. She cooks an amazing breakfast daily and the guests all eat together in a big great room with a fireplace.  Some chat, others keep to themselves, but it's a big friendly feeling... with the help of the owners who love to chit chat the guests up.
They purchased the old B&B maybe ten years ago, and love the lifestyle. They live in an active vacation town where there is plenty for guests to do.
This home business obviously isn't for everyone, but some Boomers out there might find the perfect place in the perfect location -- and invite guests into their home every weekend!
Any marketing guru will tell you there are three important areas of consideration before starting a business: location, location, location... and that is certainly true with a B&B.
Resources from amazon.com to help you start your Business Today
For the basics, to help you make a decision, you might try, Running a Bed & Breakfast For Dummies
Do you dream of owning a B&B? This friendly, practical guide shows you how to make your dream a reality, with expert advice on everything from writing a business plan and finding the right location to handling situations you will encounter as an innkeeper.
You'll make your guests feel at home, keep your inn in tip-top shape, and ensure your long-term success in owning a Bed & Breakfast?
How to Open and Operate a Bed & Breakfast, 9th (Home-Based Business Series)
Thinking of opening your own B&B? Find out if it's really for you, then get advice on starting and maintaining your business.
Advertising, promoting health and safety, managing finances, and creating an enjoyable environment for your guests are just some of the topics covered in this indispensable guide.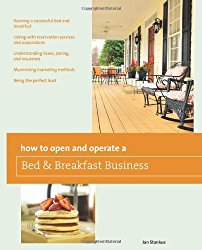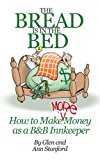 If you think that you might want to someday own a Bed and Breakfast or a Country Inn, this book is essential reading. Most innkeeper "how-to" books go to great lengths to outline the myriad of OPTIONS you will encounter, but fall short when it comes time to give OPINIONS on what you should do.

In The Bread is in The Bed, you'll get crucial real world guidance on how to choose your property, and learn where to laser focus your energy to make money.