Start a Bookkeeping Business
Have you ever considered that you might start a Bookkeeping Business?
If you're a numbers person, and  you are analytical, you might enjoy the idea of a bookkeeping biz!
Maybe you've done bookkeeping as a job before and might enjoy doing the same working from home for supplemental income?
You can market to many different sources:
Small local businesses
Local home-based businesses
Accounting or Bookkeeping businesses who might need help
Online small businesses (there are many of us)
Specific niche businesses so you totally understand their bookkeeping, like:  bowling alleys, landscapers, think of small businesses that probablly can't hire an accountant but wouldn't care to do it themselves!
Recommended Resources: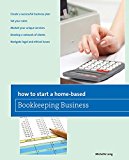 Most importantly, I was home with my children while they were growing up!  It hasn't always been easy and there have been some bumps along the way, but starting my own business was one of the best decisions I've ever made.  "
Why not learn from someone who has started a home-based bookkeeping biz before you?
This book helps you answer important questions, like:
What are your bookkeeping responsibilities? 
Do you need to be certified? 
Do you need errors and omissions insurance? 
What are bookkeeping rates? 
How do you find clients? 
Should you prepare your clients tax returns? 
How do you create a bookkeeping business plan? 
How long will it take you to find clients? 
How do you protect your work with internal controls? 
What forms and reports do you need to provide? 
How much bookkeeping do you need to provide? 
Should you prepare taxes?