Starting a Gardening Business or Landscape Business 
Do you love being outdoors?  You might consider starting a Gardening Business or a Landscape Business.
Just think, you can work your own hours, work few jobs or many, and do only the jobs you choose to do...  Homeowners are really busy and work long hours nowadays. They'd appreciate your help!
Some examples might be:
Lawn maintenance
Snow removal
Planting and maintaining gardens
Planting and maintaining flower gardens
Trimming shrubs
Fun Stuff like: Fairy Gardens, planter gardening with flowers or veggies
The list goes on and on...
Whether you want to mow lawns on the weekends to stay in shape or open and manage a larger landscape and gardening company, landscape and garden maintenance is a great home business!
But you may be wondering how to start a garden and landscape maintenance business. Is it something you can do? Definitely!
Recently, I met two guys in Home Depot who had a catchy logo on the back of their jackets, I just had to comment on it. When I did, they explained they had started a grass and snow business a few years ago, now they have a few crews that do the work, and they run the business part... they were surprised their business grew so quickly.
You could do this too!
Resources to help you Start a Garden / Landscape Business: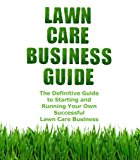 What they've said is true, "Find something you enjoy doing and you'll never have to work a day in your life". For me it's lawn care, landscaping and all the other aspects of beautifying homes and their surroundings.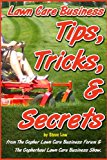 The sooner you learn these secrets, the better your chances are of finding long term success.
I attend many conferences (trainings) for my website business and you need training too!
How To Get Commercial Lawn Care And Snow Plow Customers.
This author knows it can be so very difficult for newer lawn care, landscaping, or snow plow business owners to find out how to gain commercial customers. Do you just go in and knock on doors? Do you send them letters? How should they be approached?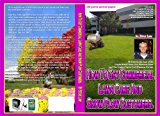 All too often when people try things, they experiment once and if it doesn't give them the results they are looking for, they give up and think they just lacked some magical quality others who are successful must have that they don't.  Learn from someone who has been there before you... it only makes sense!