Try Teaching Online
Try teaching online! I'm serious -- you can teach online, it's not that difficult and the rewards (both financially and personally) are great.
This page isn't just for "teachers", it's for anyone who might consider teaching an online course.
To me, Boomers are perfect for teaching -- it's time to give back! We've got a lifetime of knowledge and experiences to share with the world.
For example, check out udemy.com and you'll see that there are many many courses out there for fun and mental challenges. I love my online classes and webinars!  You can use a site like udemy or create your own blog to host the classes.
If you're a natural teacher and enjoy helping others, consider your options:
tutoring local children in your home (or theirs)
teaching online using udemy or another platform for classes
teaching classes via adult education night classes
Think of your skills and hobbies. Consider your work knowledge, all stuck in your head, no longer used... but maybe you can help the next generation gain a skill you've used for years! You can teach cooking, quilting, swimming or anything that others want to learn.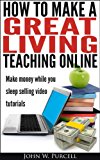 How to Make a Great Living Teaching Online
Discover how to make a great living creating tutorial videos. Whether you want to teach English, cookery or a highly specialised technical skill, creating your own online business may be easier than you think. 



John has built a successful online business making $80,000 in the first year and a half after almost two decades of cluelessly failing at one thing after another;  and "hopefully by reading this book you can avoid making the same stupid mistakes I made. "