Las Vegas, Nevada 2013
by Wendy
(www.retirement-online.com)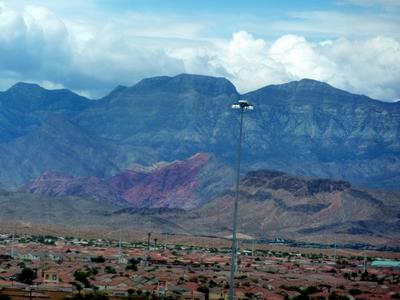 The Vegas Valley and Mountains Majesty!
Just returned from two weeks in Las Vegas and thought I'd write a short post on it. Really I should say this is Nevada, as we travel around a bit outside Vegas itself.

We travelled with my parents in their mid-80s, and we all had a ball. We don't do the Vegas Strip, at all, just too many people down there. We visit casinos the locals frequent and eat at restaurants off the strip too!

On this trip, dad had just come from the hospital days before we left -- so we took it pretty easy. No side trips like we normally do.. but that doesn't mean we didn't enjoy ourselves.

I love the simple looks of Vegas. Everything is so clean and architecturally perfect.

Even driving on the freeway is an experience to me. They have beautifully arranged rocks (instead of grass), or cement/brick walls with different colors/textures, or even hieroglyphs carved into the walls. I love the palm trees, cacti, and this trip was full of flowering plants too! This isn't the strip -- all flashy and glitzy -- it's south west colors and just natures beauty.

Don't forget - the whole Vegas valley is surrounded by mountains! Purple Mountains Majesty, indeed!