Las Vegas Senior Living

Las Vegas Senior Living is another option for new retirees to consider.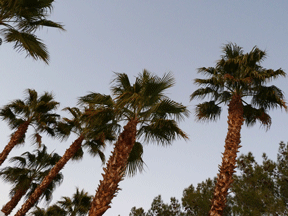 Las Vegas is my best retirement location as we have vacationed here for approximately 25 years. I love the palm trees and blue skies above! If you live with palm trees, you think nothing of them. But if you live somewhere like Michigan, Palm Trees are a thing of great beauty!

My parents (now in their mid-80s) bought a condo in Las Vegas almost twenty years ago... and we've vacationed here ever since.
Back 25 years ago, we first stayed at the newly built Circus-Circus casino/hotel. Later my parents rented a suite of rooms at the Blair House... so they could stay here for a month at a time when they first retired. Then they purchased the condo... and we love it here.
For maybe 15 years, my parents stayed here in Vegas from January through May... and had many friends who were also separated from friends and family back home.
This group of people end up as a Las Vegas Senior Family/Community. They went out for lunch or dinner together. They traded baked goods and sent up left overs for lunch. They often met around the pool to chit chat about the previous day, and their plans for today. They helped each other with household problems, driving folks to and from the airport.. it was a great group of retired people, living in condos, around one pool in the Raintree community.
Now, the majority of those folks have died. My parents alone remain visiting Vegas. It's really sad as they sit here and reminisce about each person who lived in each condo around the pool.
Enough -- We are located about five miles from "the Strip" but rarely venture there... too many people for me!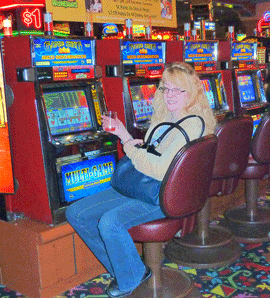 I am here in Las Vegas, Nevada for 2.5 weeks (January 2012)... and will write about my Vegas happenings for seniors who might consider Vegas as a retirement location.
I'm not here to gamble, despite the photo of me here. I am here for rest and relaxation in a beautiful state, Nevada.
We do, however, gamble a bit. It's fun as an activity.... we dutifully find our Buy 1 Get 1 Free Dinner Deals, then after dinner, we play at the casino (thus, the meal is no longer buy 1 get one free.. grin!) Fun Fun!
I intend to blog here daily about my stay in Vegas... Join me in my own Las Vegas Senior Living with my blogging fun!
Wendy, www.retirement-online.com
Wendy's Vegas Blog
Do you have a great story about this? Share it!
Read Wendy's Vegas thoughts here!!
Click below to read articles from Mike and other visitors to this page...