Red Rock Canyon - Las Vegas, NV
by Wendy
(www.retirement-online.com)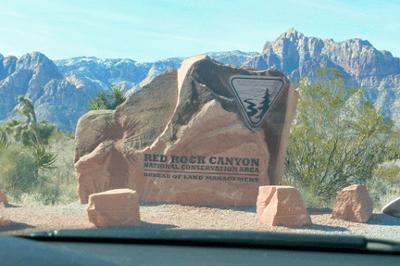 Welcome!
Welcome to Red Rock Canyon, just outside Las Vegas.

We always tour Red Rock, by car, every time we visit Vegas. We do the car route, but you can also hike down into the canyon, climb the mountains, bike ride the car route... many do!

However, most visitors to Las Vegas have no idea Red Rock Canyon exists. What a pity!

In the second photo, I love how you can see all the different types of mountains in one scene. You'd think a mountain is a mountain, but not so... they are made of sandstone, iron ore, and more. They also are mountain with or without any vegetation... this visit, being in January, there was much greenery, but different from Michigan (not plush bushes, or palm trees like Vegas, but green desert plants).

I really intended to walk down into the mountains a bit... just a bit... but it was really windy and chilly (normally my excuse is the HEAT in Vegas)!

Oh well, next visit.