Retirees and Butterflies
(Encore Casino!)
by Wendy
(www.retirement-online.com)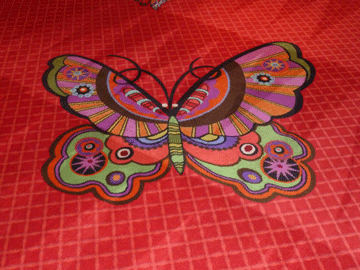 Huge Butterflies on Carpets
I often think of myself as a Retirement Butterfly... after years of government employment, years of doing what someone else needed me to do, years of working for a living as we all do -- I am FREE!

Some retirees don't like this freedom stuff too much - they don't know what to do with themselves. So much time, so little to do.... huh?

There is a whole wide world out there - I really don't care if I'm simply walking outdoors looking at the scenery. It's all ever-changing and ever-interesting and keeps the mind challenged. I can go to the matinee movies to live another life for a brief moment in time.. matinees are not expensive. I can visit the library, read a few magazines, do some people watching and look into free classes they offer. Small actions, nothing costly, and yet a world to interact with and challenge you in some manner.

So, now I want to share a few more photos from yesterday...

I was so surprised to see Butterflies everywhere at the Encore casino (another Wynn's casino). My little Retiree Butterfly heart was singing!

These are the more colorful butterflies... red carpets with oh-so colorful butterflies, some with LARGE butterflies and sooo detailed, others with smaller butterflies and lots of them!

Then there were red glittery butterflies on the ceiling that were 3-D, so they really popped!

Finally, more mosiac work (like the flowers on the floor at Wynn's that I just posted).... only beautiful butterflies.

Butterflies should be a Retiree Thing -- we emerge from our old selves, out of jobs we've held for a lifetime -- into a new world that is all about what WE choose to be!

Life is good... bring on that sunshine!

Join in and write your own page! It's easy to do. How? Simply click here to return to Las Vegas Blog.