Retirement Book:
Too Young To Retire

This is a great retirement book. Are YOU "too young to retire"?
It's not about age at all... it's about making the third stage of life exactly what you hope and dream it should be!
Below is a book review I wrote on Amazon.com:
Too Young to Retire: 101 Ways To Start The Rest of Your Life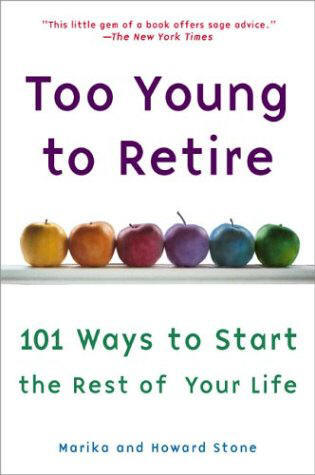 This 5-star retirement book on Amazon really opened my eyes to the many possibilities of retirement. As a retirement website owner and retired at age 55, I already understood the need to be active in retirement. Through the Too Young To Retire book, I enjoyed reviewing my own retirement using the "Too Young To Retire" book and "A Journal of Transition" available on the www.2y2r.com website.
I just completed the 2y2r class with Howard Stone, the author of this book (written with this wife Marika), who is a wise retiree with sage advice. I could listen to him for hours! His extremely positive view on retirement and aging is so refreshing in today's society with all the naysayers out there! I loved his positive outlook and his thoughts on the years ahead… and I highly recommend this book for anyone struggling with retirement.
"Too Young To Retire" isn't written just for young retirees – it's a retirement book for all retirees who simply don't feel the need to stop contributing to society. Retirees in the retirement transition phase who have lost their work identities and just don't know what to do all day, every day – at age 55 or 75 – will love his book. The references and stories throughout the book highlight why we need to be active and the quotes were inspirational!
There are so many options for retirement, don't let life pass you by, keep busy fulfilled and happy!
Great retirement book! Wendy, www.retirement-online.com
Oprah ended her show yesterday, 5.25.2011, and I wrote this Oprah show page to challenge retirees, using Oprah's thoughts. This is, in part, what the Too Young To Retire book is all about.
Please consider purchasing this book, it's only $10 from Amazon. This one book will help you transition from working person to happy retiree with a purpose in life… it really will.
If you are feeling anxious about retirement, spend $10 and help yourself figure out what's next in life for you.
Too Young to Retire: 101 Ways To Start The Rest of Your Life -- Buy it here at Amazon.com