What is Resveratrol?
What is Resveratrol? Have you ever heard of Reservatrol?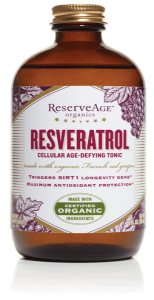 I haven't, until quite recently when I started to research retirement happiness. I emailed with Kaitlyn from ReserveAge Organics and wanted to share the info I learned about Resveratrol here because this sounds so perfect for retirees.
There are Reservatrol Scams online.. beware!
The ReservAge company, on my site, is legit and has won awards for their products. Learn more here and be educated so you avoid this scam! I want to be sure that readers understand this...
---
On to my interview with Kaitlyn!
Please educate readers about Resveratrol... what is it and why would it help retirees? How will it help retirees to maintain happy moods?
>
Resveratrol is the active polyphenol found in the skins, seeds and stems of grapes, which has been proven in studies to be the element in red wine that increases cellular productivity and longevity, leading to a longer and healthier life.
There has been over 2,000 clinical studies on Resveratrol which shows it provides rapid cell rejuvenation and offers maximum antioxidant protection, and one capsule of Reserveage Organics' Resveratrol 500 mg delivers the health benefits of over 2,000 glasses of red wine!
Within 2-3 weeks individuals will feel increased energy and improved overall mood.
Why is this product effective? Why does it work?
Reserveage Organics provides the only Resveratrol products made with certified organic ingredients.
Why is this important? Well, Resveratrol is naturally produced by plants in defense to environmental dangers such as harsh weather and insects. When non-organic vineyards spray the grapes with pesticides and herbicides, it is preventing the plants from producing the most potent form of Resveratrol.
Reserveage harvests its grapes from an exclusive organic and biodynamic vineyard in southern France, so consumers are receiving the most potent Resveratrol available.
How long has this product been on the market?
Reserveage began producing its products in early 2009. Despite the recession, Reserveage has become one of the fastest growing companies in the natural products industry. Reserveage has won various awards for product excellence and it was a finalist for the 2010 Best New Company of the Year category from the American Business Awards.
After purchased, how long does someone take it before they see the effects?
An individual taking Reserveage Resveratrol will begin to feel increased energy and improved mood within 2-3 weeks.
Finally, Tell me a bit about your company. How and where is the product manufactured?
With a respectable start offering four products in one brand, Reserveage now boasts more than 30 products across three brands, with several new brands in development. In an effort to promote the sustainability of the environment, Reserveage products are packaged in recycled amber glass, recycled cardboard boxes and are printed with vegetable-based inks, making Reserveage the only Resveratrol brand that does not utilize plastic packaging. Due to its exclusive relationship with seventh-generation organic, biodynamic vineyards, Reserveage is able to purchase raw materials directly from the vintners. This ensures that the growers receive the highest possible pay for their labor while Reserveage is able to supply organic-based Resveratrol at a price competitive with non-organic brands. Reserveage also holds exclusive rights to the entire organic muscadine grape crop in the Southeastern United States. All Reserveage supplements are created through a patent-pending, proprietary process called "Vine-to-Capsule" technology that preserves the essential phytonutrients found in grape skins. By maintaining these strict standards, Reserveage boosts the bioavailability of Resveratrol resulting in products unsurpassed in purity, potency and freshness.
Many Thanks to Kaitlyn!
2010 Best of Natural Beauty Award by Better Nutrition Magazine
2009 Best New Supplements of the Year by Vitamin Retailer Magazine
2009 Best of Supplements Award by Better Nutrition Magazine
Learn more about Resveratrol at the Reservage.com website!
---
If even one retiree can find energy and happiness with Reserveage products, I'd be very happy too! If you try this, please use the Contact me (left navigation bar) to tell me how you liked it! I'd love to hear from you! Thanks! Wendy
P.S. I got an angry email on this product and wanted to share more about Reservatrol Scams here!