Wynn's Chinese New Year
by Wendy
(www.retirement-online.com)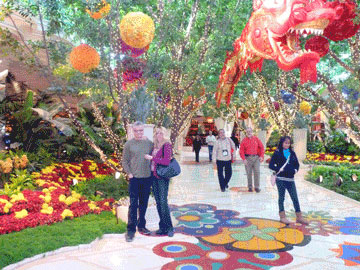 Terry & Wendy at Wynn's Casino
Yesterday, we visited Wynn's casino for the first time.

I loved the Red, Red, Red decor -- so bright and beautiful!

The photos were taken in the entrance to the casino/hotel and were a thousand times more beautiful than the photos allow.

First, you see Terry and I (to the right) and the simply breath-taking scene around us. The flowers on the floor are mosiac designs... bright and beauuutiful!
There are lights everywhere, huge flower "balls" hanging from the trees... my photos don't do this justice at all.

Second, you see the Chinese New Year Dragon... pretty fella, isn't he? He's hanging up in the trees, above our heads in the first photo, and fairly large.. cool!

Third, this is a close up of one of many flower "balls" (for lack of a better term.. grin). You can see it's a patchwork of different flowers in the same color family. and gorgeous! I wonder if there is water inside the balls to keep them hydrated, or if they possibly replace the balls daily? Unbelievable!

There is so much to do and see -- such beauty -- in Las Vegas. Seniors are everywhere.. both gaming and just walking about enjoying the sunshine and the sites!


Join in and write your own page! It's easy to do. How? Simply click here to return to Las Vegas Blog.