Customer Service in a Kid-Based Business
This short article is just something I must write about. We all know that Customer Service can make or break a business… and in this case, it's so true.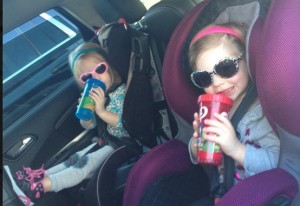 A few weekends ago, my sister and I were in Saugatuck Michigan for our anniversaries. We visited a wonderful Art Barn where we both made mosiac projects while our husbands waited patiently. It was so creative and we totally loved it!

Back home, my sister wanted to recreate the moment with her two grand-daughters… give them some creative time, while the moms relaxed for a few hours.
My sister took her two grand-daughters (aren't they adorable?)  both 2-3 years old, to a nearby Paint Studio for an afternoon of fun. They were the only ones there and the girls totally behaved themselves — turning two white pumpkins into colorful pumpkins turned brown with too much color on them.
BUT there were two workers in the Paint Studio. They stood right behind the kids (there was lots more room in the place) and were talking business. My sister made the best of it, not wanting to create a scene with the kids there… but she paid good money to take the girls for a Girls and Grandma outing.
The workers were totally unaware that their yakking didn't allow the kids and grandma to chat amongst themselves. They were  standing right there... right behind the girls.
One of the girls hates being dirty (the other would easily plunge right in, head first!) so my sister asked for paper towels. The worker said they ran out and you can find something in the restrooms. Really?  She's got two little girls sitting there with PAINT and you want her to run for tissues?
Needless to say, she won't go back there. Now we know why the studio was so empty.
Don't forget customer service — even in a  Kid-Based Business… it's just so important to cater to your customer!