Amazon Prime
Early 2017, I finally bought into Amazon Prime. I use Amazon for lots of purchases, it's easy peasy for me.
Amazon Prime costs me $99/year. 
FREE 2-Day Shipping: sometimes same-day delivery 
I've always been a last minute shopper so this suits me just fine! I never paid the extra fees to ship more quickly so I had to be patient, now I always get my orders quickly. I also like that I no longer worry about the shipping fees -- sometimes the fee was more than the item (or darn close to it).
Prime Video: Unlimited streaming of movies and TV shows
Kindle Lending Library: You can borrow books and magazines too. I am a Big reader.  I hate being bored, especially at all the doctor appointments with my 9--year old parents. Works for me!
Secure unlimited photo storage:  I have a separate hard drive with my photos, so I haven't used this, but many friends do!
Just wanted to share PRIME with readers! There is lots more that I don't even use! 
Read more: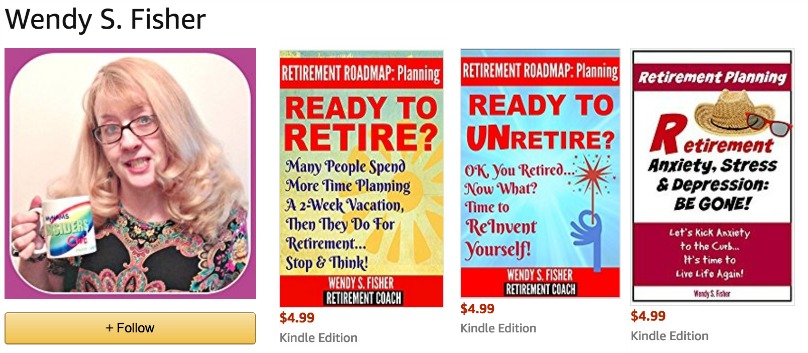 Click to view on Amazon!
Amazon Associate 
As a blogger, you can apply to be an Amazon Associate to earn commissions on Amazon products too.
This is totally passive income because the products are linked to Amazon with your codes. You write an article, add Amazon links or images (or both) and if readers click and buy, you get a commission. 
This does not change the purchase price for the reader. Amazon simply pays the commission as you provided the customer.
You see Kindle Books sprinkled on my site pages. They are all Associate links. They help people find the books they need for any retirement issue. If they buy, I earn a small commission which helps pay for the site. 
Warning: this is a VERY small commission. You need lots of visitors and lots of purchases to make a real income, BUT many do!
Buy a tshirt below and I earn a small commission... that shirt is a clickable ad below this text.
Click to view on Amazon!
Look at the image below. After you sign up as an affiliate, I find what I want to sell: 101 Fun Things To Do, in this example.
Step 1: I click on the first arrow options on top. Do I want text, image or both?  
Step 2: I pick the size of the image.
Step 3: I cut and paste the gold code into my site -- where the image will magically appear!
 Easy Peasy!